Kushner optimistic over negotiating a lasting Israel-Palestinian peace deal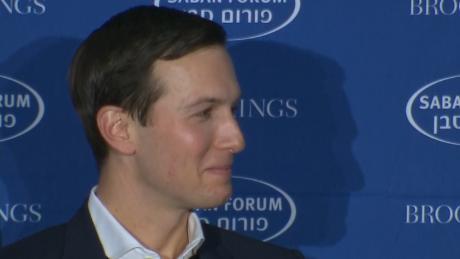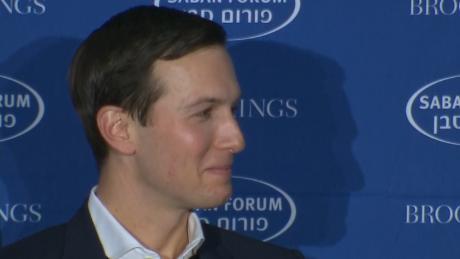 Jared Kushner said Sunday he was optimistic he could negotiate a lasting peace agreement between Israel and the Palestiniansdespite increasing tension in the region over President Trump's reported plans to recognize Jerusalem the Israeli capital.
In a rare public appearance at a forum of current and former American and Middle East officials, Mr. Kushner, the president's son-in-law and senior adviser, acknowledged the challenges that for years had thwarted the efforts of many longtime negotiators in the audience. But as Mr. Trump's point man for Middle East peace, he presented an upbeat portrayal of his own effort to build trust with both sides.
"You see a lot of reasons why this deal could go south very quickly, and there are a ton of distractions," Mr. Kushner said at the Saban Forum, the marquee Middle East policy conference hosted by the Brookings Institution in Washington every year. But, he said, "I am optimistic that there is a lot of hope."
Mr. Kushner offered no concrete details about the plan that he and his team were developing, nor did he outline a timetable for releasing it. But analysts said any progress he might be making could be disrupted this week if Mr. Trump followed through on plans to declare Jerusalem the Israeli capital.
By law, the president has until Monday to decide whether to sign an order keeping the United States Embassy in Tel Aviv or move it to Jerusalem, as he has promised repeatedly to do. Like other presidents before him, Mr. Trump has held off relocating the embassy because both sides claim Jerusalem as their capital and such a move would be seen as prejudging a final peace agreement. Advisers have said Mr. Trump was poised to sign another waiver delaying the move for six more months but would balance that in a speech on Wednesday by recognizing Jerusalem as the Israeli capital. While the reaction has been mixed, some Palestinian and Arab leaders have warned that such a declaration could kill Mr. Trump's peace initiative.

In his appearance at the Saban Forum, Mr. Kushner declined to preview Mr. Trump's announcement. "The president's going to make his decision," he said. "He's still looking at a lot of different facts."
While Mr. Trump has presented himself as Israel's strongest supporter ever to hold the White House, Mr. Kushner insisted that the president had earned the trust of Palestinians and Arabs as well. Citing last year's upset election, Mr. Kushner said his father-in-law had shown an ability to achieve the unlikely. "The president has a very long career of accomplishing things that a lot of people say were impossible," he said. "We do think it's achievable."
Mr. Kushner's talk came just two days after Michael T. Flynn, the president's former national security adviser, pleaded guilty to lying to investigators about his contacts with Russia's ambassador during the postelection transition. Court papers indicated that he was directed to talk with the ambassador by a senior transition official who has been identified as Mr. Kushner.
Mr. Kushner was not asked about his role during the question-and-answer session conducted by Haim Saban, the Israeli-American entertainment mogul and prominent Democratic campaign contributor who sponsors the event. But Mr. Saban noted that court documents cited Mr. Kushner's role during the presidential transition in lobbying against a United Nations Security Council resolution condemning Israeli settlements in the occupied West Bank, contradicting the position of President Barack Obama while he was still in office.
"As far as I know, nothing illegal there, but I think that this crowd and myself want to thank you for making that effort," Mr. Saban said. "So thank you very much."
Mr. Kushner nodded his thanks but had nothing more to say on the matter.
NY Times