LF won't quit government, but urges Hezbollah's withdrawal from regional conflicts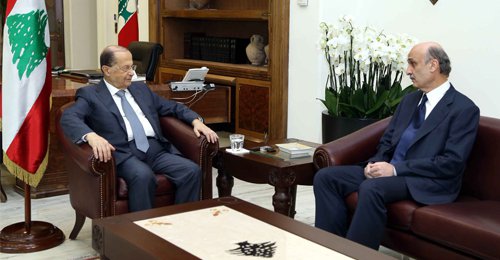 Lebanese Forces leader Samir Geagea announced on Monday that the three Lebanese Forces ministers will not resign from Prime Minister Saad Hariri's government, but reiterated his call for Hezbollah's "withdrawal from the regional conflicts."
"Some parties are trying to address the conflicts in a shallow manner and this is wrong, seeing as we all support the settlement," Geagea said after talks in Baabda with President Michel Aoun, referring to the 2016 settlement that led to Aoun's election and Hariri's designation as premier.
"There is a major crisis at the level of the Middle East and Lebanon's dissociation from conflicts should happen through actions and not words," Geagea added, calling for Hezbollah's "withdrawal from the regional conflicts , and to stop interfering in the affairs of the Arab nations "
"There should a real state and the issue of Hezbollah's arms should be addressed in terms of the military and security decisions, which should be limited to the state, and this is what I discussed with the president," the LF leader went on to say.
Responding to a reporter's questions, Geagea underlined that the LF will not withdraw from the government in the current period and that all political parties are currently "reevaluating the settlement."
"We will continue what we were doing inside the government," the LF leader added.
He also said that "the Foreign Ministry should coordinate with the international community" regarding the issue of repatriating Syrian refugees to safe zones inside Syria.
Aoun started on Monday a series of bilateral consultations in Baabda with the country's political parties. This meetings come a few days after Hariri announced that he was suspending his resignation pending negotiations over the dissociation policy.
"The consultations will tackle the security situation, the dissociation policy, ties with Arab states, the Taef Accord and the government's situation, and President Aoun will request clear answers on this issues. This also includes the stance on the Israeli threats, including the defense strategy," Presidential sources told LBCI television.
Hariri had announced Saturday that the other parties seem to be inclined to accept his proposals .
The PM has called for dissociating Lebanon from the regional conflicts through ending Hezbollah's involvement in them.