Jumblatt rejects Iran's interference in Lebanon internal affairs. "We don't take dictations"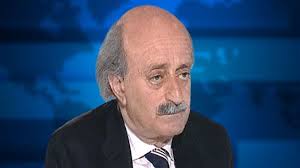 Progressive Socialist Party leader Walid Jumblatt Friday denounced  Iran's interference in Lebanon's affairs  , a day after Iran's Revolutionary Guard Corps head said that Hezbollah weapons were non-negotiable and disarming Hezbollah was out of the question .
In a tweet early morning, Jumblatt responded to IRGC chief commander Mohammad Ali Jafari, who said Thursday that Hezbollah's weapons were necessary to fight Israel.
"We reject the Iranian dictation that came from Jafari's mouth," the PSP chief said. "The Lebanese have enough experience and the know-how to solve their issues through dialogue. We don't take dictations from across borders that don't benefit us."
Jumblatt's  comments came amid current developments that have placed talks on Hezbollah's arms at the forefront again.
The issue has been highlighted in recent days after Prime Minister Saad Hariri announced his resignation on Nov. 4 as well as with Saudi Arabia's accusations that Iran has played a role in a ballistic missile attack on the kingdom that same day.
Hariri, who put his resignation on hold, had said that the next phase should focus on Lebanon's dissociation policy from regional crises.
Jumblatt, head of the Democratic Gathering bloc, had met with Hariri Thursday evening at the Center House accompanied by MP Wael Abu Faour and in the presence of Culture Minister Ghattas Khoury.
"We, the country and Sheikh Saad went through an exceptional situation but of course it was solved wisely and politically, thanks to the wisdom of Sheikh Saad and all parties in Lebanon, if not all at least the majority. Now we have a new start," Jumblatt had stated.
Hariri, who returned from a mysterious nearly three-week-long stay abroad, had caused widespread perplexity on November 4 when he resigned during a TV broadcast from Saudi Arabia, citing assassination threats as well as the negative impact on Lebanon and the region of Hizbullah and its Iranian patrons.
After a puzzling mini-odyssey that took him to France, Egypt and Cyprus, Hariri arrived back in his homeland on Tuesday and then announced that he was putting his decision to quit on hold ahead of negotiations.
Jumblatt also criticized the way PM Hariri was treated by the Saudis.
"As the Lebanese have disapproved the unusual manner that some Saudi circles have used in dealing with (PM) Sheikh Saad, we reject this Iranian dictates by the commander of the Revolutionary Guards Mohammed Ali Jafari" said Jumblat in a tweet on Friday.