Hezbollah allies in Lebanon criticize its labeling as a terrorist group by the Arab League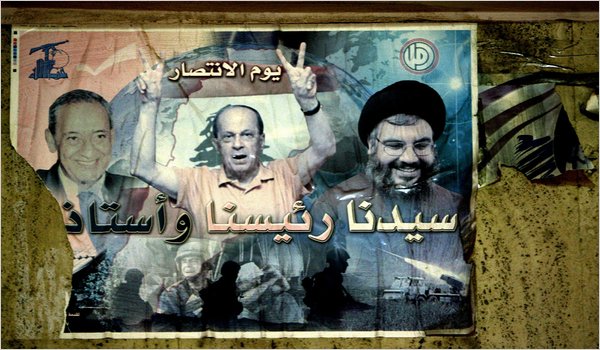 Speaker Nabih Berri, an ally of the Iranian backed Hezbollah militant group criticized indirectly on Monday the Arab League's closing statement that named Hezbollah a "terrorist" organization.
"Thanks and sorry…Thank God and sorry that we in Lebanon have fought the Israelis," said Berri in a post on his Facebook page.
Berri did not make further remarks.
The closing statement of an emergency Arab League meeting on Sunday labeled Hezbollah as "terrorist", which prompted Hezbollah allies in Lebanon to voice reservations over certain clauses.
The statement accused Hezbollah of "training terrorist groups" in Bahrain, "supporting terrorist groups" in Saudi Arabia, and "supporting terror and terrorist groups in Arab countries with advanced weapons and ballistic missiles."
Describing Hezbollah as a "partner in the Lebanese government," the statement also accused the group of "spreading extremism and sectarianism" and "interfering in the internal affairs of other countries."
Hezbollah ally FM Gebran Bassil skipped the emergency meeting of the Arab League , but Lebanon's permanent representative at the Arab League Antoine Azzam who attended the meeting made carefully weighed comments at the talks.
While not mentioning Iran by name, he said Lebanon condemned all attacks against Arab nations, but blamed exploitable inter-Arab divisions that allowed international and regional powers to promote their interests.
MP Qassem Hashem who is a member of the Amal movement that is headed by Speaker Berri also rejected the Arab League naming of Hezbollah as a "terrorist" organization, describing the party as a "major component of the Lebanese fabric."
In an interview with radio VDL (93.3) Hashem said Antoine Azzam is "part of Lebanon's political society. It constitutes a fundamental part in the Parliament and Cabinet and has its own popular and political weight."
Hashem added saying that the Arab League "must understand Lebanon's particularity," asserting that "Lebanon is keen on having strong and excellent ties with the entire Arab countries."
"Hezbollah is dealing with all Lebanese issues wisely and positively mainly the recent crisis," said Hashem, adding "but some issues can not be tolerated, especially external dictates, in light of the seriousness of what we are going through. What is happening today is not normal and we are all concerned with fortifying the internal arena."
LBCI television said Foreign Minister Bassil , who skipped the meeting , held phone talks with more than 10 Arab foreign ministers and managed to omit from the statement a clause holding "the Lebanese republic" responsible for "Hezbollah's terrorist acts."
Arab League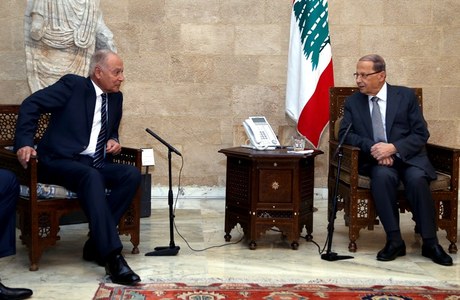 Arab League chief Ahmed Abu el-Gheit stressed on Monday that the Arab League is keen on "understanding" Lebanon's "special composition" after naming Hezbollah a "terror" organization, assuring that no one accepts any harm for the Mediterranean country.
"No one wants to harm Lebanon we understand it has its own particularity," said Abu el-Gheit after holding a meeting with President Michel Aoun at the Baabda Palace.
"I explained to the President the circumstances that surrounded the Arab League's meeting and the closing statement," he added.
Earlier after arriving at the Rafik Hariri International Airport Monday, Abu el-Gheit stressed to reporters that the Arab countries "have great understanding for Lebanon's position and that they want to spare it from becoming embroiled in conflicts," National News Agency reported.
Arab diplomatic sources told Al-Joumhouria daily that "it was a coincidence for Abu el-Gheit to travel to Lebanon one day after the Arab League meeting, and that he will participate in a conference invited by the ESCWA for the regional economic commissions in the Arab countries ."
President Aoun reportedly stressed on Monday during talks with the Arab League chief that Lebanon must not "pay the price for regional conflicts."
"Lebanon is not responsible for the Arab and regional conflicts that some Arab states are witnessing. Lebanon did not carry out any aggression against anyone and it should not pay the price of these conflicts," Aoun told Abu el-Gheit
The President added: "Lebanon can not tolerate a suggestion that the Lebanese government is a partner in terrorist acts. Lebanon's stance declared through its representative at the Arab League yesterday expressed a national will."
Turning to Lebanon's conflict with Israel and how the country has countered the Israeli aggressions since 1978, Aoun a close ally of Hezbollah said: "Lebanon was able to face the Israeli aggressions since 1978 until the 2006 war. It was able to liberate its land. Israeli threats are still ongoing, the Lebanese have the right to fight and thwart it with all available means."
Aoun has been defending Hezbollah's role in defending Lebanon against Israel, but the Arab countries are more concerned about Hezbollah's interference in their own internal affairs and have been calling on Lebanon to dissociate itself from regional conflicts as stipulated in the Baabda Declaration. According to analysts , Lebanon's southern border with Israel has been  relatively quiet  since the 2006 war ended,  but Hezbollah has been actively involved in all the regional conflicts in Syria, Iraq and Yemen and has been accused of being behind terrorism cells in Saudi Arabia, Bahrain and Kuwait