Lebanese FM may skip Arab League meeting to avoid confrontation over Iran/Hezbollah role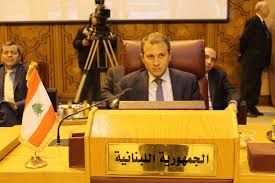 Lebanon's foreign minister may not attend an Arab League meeting in Cairo on Sunday and a final decision will be taken in the morning, a senior Lebanese official told Reuters on Saturday.
The official said Foreign Minister Gebran Bassil wanted to avoid an anticipated confrontation at the meeting with Saudi Arabia and its Arab allies over the regional role of the Iran-backed Lebanese Shi'ite group Hezbollah.
The emergency Arab foreign ministers meeting is being convened at the request of Saudi Arabia with support from the UAE, Bahrain, and Kuwait "to discuss means of confronting Iranian intervention in the internal affairs of Arab states," the Egyptian state news agency MENA said.
Hezbollah is part of the Lebanese government and a political ally of Lebanese President Michel Aoun and his son-in-law Bassil
The Sunni Muslim monarchy of Saudi Arabia and Shi'ite Islamist Iran are at loggerheads across the region, and tensions between them have recently escalated in both Lebanon and Yemen.
Lebanon was thrust to the forefront of the regional struggle when Saad al-Hariri resigned as prime minister on Nov. 4 in a surprise announcement from Riyadh.
Aoun has accused Saudi Arabia of holding Hariri hostage, but both  Saudi Arabia and Hariri deny this.
After French intervention, Hariri flew to France overnight and met French President Emmanuel Macron in Paris on Saturday.
 Hariri, speaking in Paris, said he would clarify his position when he returns to Beirut in the coming days. He said he would take part in Lebanese independence day celebrations, which are scheduled for Wednesday November 22.
Hariri, long a political ally of Saudi Arabia, cited fear of assassination and accused Iran and Hezbollah of sowing strife in the Arab world during his resignation speech.
REUTERS