Hariri will be in Lebanon for Independence day
Lebanon's Prime Minister Saad Hariri said on Saturday he would return to Beirut in the coming days and indicate his position on the current crisis after meeting President Michel Aoun. Hariri made his announcement during a visit to Paris.
Speaking to reporters in Paris after meeting French President Emmanuel Macron, Hariri said he planned to attend Lebanon's Independence Day celebrations on November 22.
"With regard to the political situation in Lebanon, I will go to Beirut in the coming days, I will participate in the independence celebrations, and it is there that I will make known my position on these subjects after meeting President Aoun," said Hariri.
It marked Hariri's first public statement since arriving in France from Saudi Arabia, where he announced his resignation as Lebanon's prime minister on a Saudi TV station on November 4.
Reporting from the Élysée presidential palace, FRANCE 24's Catherine Norris-Trent noted that Hariri's brief remarks, following his meeting with Macron, "left more questions unanswered than answered". Apart from his statements thanking the French president for his support and reiterating his return home for Lebanon's Independence Day celebrations, Hariri provided few clues about his immediate and not-so immediate future. "We will have to wait and see now whether Saad Hariri maintains his resignation as Lebanese prime minister and what that will mean for the country and the wider region going forward," explained Norris-Trent.

The statement came hours after Hariri and his wife, Lara al-Azm, arrived in Paris early Saturday. It was Hariri's first trip outside the region following his resignation announcement.
His resignation was not accepted by President Aoun following fears in Lebanon that Hariri's statement was made under duress and that he had been held against his will in Saudi Arabia. Shortly after his arrival in France, Lebanon's state-run National News Agency reported that President Aoun had announced that he had spoken to Hariri over the phone and that he expects him to be back in Beirut by Wednesday to take part in the country's Independence Day celebrations.
Youngest children 'still in Riyadh'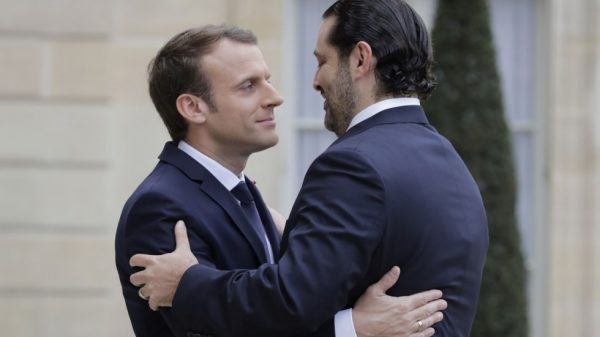 Norris-Trent said Hariri had looked relaxed as he met with the French leader, with both his wife and his eldest son – who had flown in from London – by his side.
"His two youngest children weren't with him on this trip to France, however. It's believed they've stayed behind in Saudi Arabia where they are at school," she said, adding: "So there will no doubt be speculations to what we can read into that – whether it signifies a return to Saudi Arabia for Hariri even?"
A senior official at the Elysée palace said France was not worried about Hariri leaving the children in the Saudi capital, Riyadh. "He left two of his children in Riyadh because dad and mom thought it best to leave two children in Riyadh," the official, who declined to be named, told the AP, answering questions about whether, as some have suggested, Saudi Arabia could use the childrens' whereabouts to maintain pressure on Hariri.
Before leaving Riyadh, Hariri dismissed as "rumours" reports about his alleged detention in the kingdom. In a tweet, he insisted his stay in Saudi Arabia was to consult with officials there on the future of Lebanon and its relations with its Arab neighbours.
France considers hosting support group meeting
In his resignation announcement, Hariri cited Iran and Hezbollah for meddling in Arab countries, particularly Saudi Arabia. He also said he was afraid for his life. Many Lebanese saw it as a sign the Sunni kingdom – the prime minister's chief ally – had decided to drag tiny Lebanon into its feud with the region's other powerhouse, the predominantly Shiite Iran.
France meanwhile has been attempting to play the role of an objective intermediary between the world's Sunni and Shiite superpowers. Following Hariri's talks with Macron, a French presidential source told Reuters that Paris was considering hosting a meeting of the International Lebanon Support Group to discuss the political crisis in the country.
The group includes the five permanent members of the United Nations Security Council – Britain, China, France, Russia and the US – plus Germany.
(FRANCE 24 with REUTERS, AP)