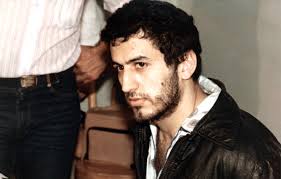 Gemayel, 34 at the time, was allied with Israel. His death prompted the Israeli army to storm and occupy Muslim west Beirut and Gemayel's right-wing Phalange militiamen to break into the Palestinian refugee camps of Sabra and Shatila on the outskirts of Beirut, killing hundreds of unarmed Palestinian refugees and Lebanese Muslims.
"Today, Bashir and the September 14 martyrs, regained some of their rights because the loss of Bashir and his comrades cannot be compensated," Gemayel's wife, Solange, told reporters outside the courthouse shortly after the verdict was read.
Wide celebrations were underway by Gemayel's supporters in Ashrafiyeh's main square, near the site of the bombing.
Near the courthouse, SSNP supporters protested the verdict, saying that Shartouni, one of the two sentenced to death, should be honored for fighting "Israel's project in Lebanon."
Days after Gemayel was assassinated, Shartouni was detained and held until 1990, when he was set free after the Syrian military moved into Lebanon's Christian heartland and removed then-prime minister Michel Aoun from areas he controlled in east Beirut. Aoun is today the Lebanese president.
Shartouni has been at large since  Oct. 16, 1990. Though his whereabouts remain unknown, some local media have quoted him in interviews as saying he killed Gemayel and that at some point he lived in Syria. An interview with him was published on Thursday in the daily Al-Akhbar in which he is quoted as saying he does not regret his act.
Al-Alam — who allegedly instigated Shartouni to carry out the bombing — is believed to have died in Latin America in 2014 but Lebanese authorities have tried him in absentia, saying they have no evidence he is dead.
After Lebanon's civil war ended in 1990, a general amnesty was issued for all crimes except for those that were referred to the Supreme Judicial Council, which handles political and state security crimes.