Return of Syrian refugees not linked to any cooperation with Syria's Assad, Geagea warns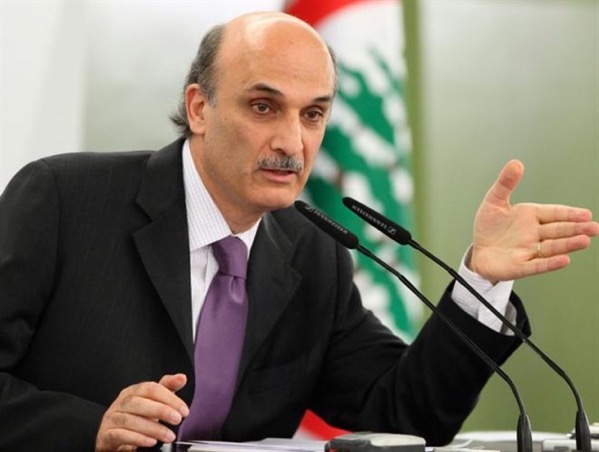 Lebanese Forces leader Samir Geagea warned Wednesday that  the return of Syrian refugees should not be linked to any cooperation with the Syrian president  Bashar al Assad's regime and said  some parties "are trying to use Lebanon and the Lebanese government to grant legitimacy to  Bashar al-Assad's regime,"
His warning came shortly after a cabinet session witnessed controversy over a possible visit by some ministers to Syria.
"The Turkish and Jordanian governments have managed to return 100,000 Syrian refugees through cooperation with the United Nations, whereas here we have parties seeking to consult with Syrian President Bashar al-Assad while forgetting that the refugees had escaped his regime  in the first place," said Geagea at a press conference in Maarab.
"Those who want to return to Syria can return to the Assad-controlled regions immediately," Geagea added, noting that refugees refraining from returning to regime-held areas are staying in Lebanon out of fear of political persecution or bloodshed.
Geagea revealed that there are some Lebanese parties who are "trying to give people the impression that the refugees' return is hinging on cooperation with Assad."
"They tried to press in this direction in the cabinet session," Geagea decried.
He added: "There is no real Syrian government and the reconstruction of Syria without a political solution is impossible."
"Things in the cabinet are unacceptable and we do not tolerate any official communication between the Lebanese and Syrian governments," Geagea stressed.
"Any minister who wants to visit Syria can do so in his personal capacity, but not in an official manner, and we hope the cabinet will take a clear stance in this regard amid these circumstances," the LF leader went on to say.
According to an official statement issued after Wednesday's cabinet session, Prime Minister Saad Hariri stressed during the meeting the importance of dissociating Lebanon from "regional conflicts and axes, "as stipulated in the Baabda Declaration
"If a minister wants to visit Syria, he can go but without a decision from cabinet," Information Minister Melhem Riachi told reporters after the session, emphasizing that "any such visit will not be authorized by Cabinet."