Iran and Turkey back Qatar in its confrontation with Saudi Arabia and its allies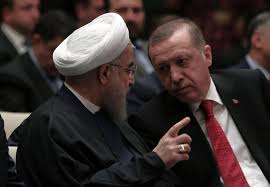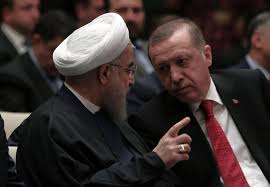 Iranian President Hassan Rouhani voiced support on Sunday for Qatar in its confrontation with Iran's rival Saudi Arabia and its allies, saying a "siege of Qatar is unacceptable", the state news agency IRNA reported.
Saudi Arabia, the United Arab Emirates, Egypt and Bahrain cut ties with Qatar on June 5, accusing it of support for Islamist militants, an allegation Qatar denies.
They have since issued 13 demands including closing Al Jazeera television, curbing relations with Iran, shutting a Turkish base and paying reparations.
"Tehran stands with the Qatari nation and government… We believe that if there is a conflict between regional countries, pressure, threats or sanctions are not the right way to resolve differences," IRNA quoted Rouhani as telling Qatar's emir, Sheikh Tamim bin Hamad al-Thani, in a telephone call.
"The siege of Qatar is unacceptable to us… The airspace, land and sea of our country will always be open to Qatar as a brotherly and neighboring country," Rouhani said.
Doha, whose neighbors have closed their airspace to Qatari flights, has said it was reviewing the list of demands, but said it was not reasonable or actionable.
Shi'ite Muslim Iran and Sunni Saudi Arabia accuse each other of subverting regional security and support opposite sides in conflicts in Syria, Yemen and Iraq.
Rouhani's statement came hours after Turkish President Recep Tayyip Erdogan denounced the demands Saudi Arabia and its allies as being "against international law".
Erdogan dismissed calls for Turkey to close a military base in Qatar and said a wider list of demands issued by four Arab states was an unlawful intervention against the Gulf state's sovereignty.
In his strongest statement of support for Qatar in the nearly three-week-old crisis centered on the Gulf state, Erdogan said the call to withdraw Turkish forces was disrespectful and that Doha – which described the demands as unreasonable – was taking the right approach.
"We approve and appreciate the attitude of Qatar against the list of 13 demands," Erdogan, speaking outside a mosque in Istanbul, said. "…This approach of 13 demands is against international law because you cannot attack or intervene in the sovereignty of a country."
Bahrain's foreign minister blasted on Sunday the outside interference stressing it would not solve the problem.
"It is in the interest of these powers to respect the existing regional order which is capable of solving any issue that may arise," Sheikh Khalid bin Ahmed al-Khalifa said in a message on Twitter, without naming Turkey or Iran
Qatar along with Turkey, whose ruling AK Party has its roots in Islamist politics, backed a Muslim Brotherhood government in Egypt before it was overthrown in 2013. The Arab states have demanded Qatar cut any links to the Brotherhood and other groups they deem to be terrorist, ideological or sectarian..
Erdogan collapsed
Erdogan has said he is in a good condition after suffering a "minor health problem" during prayers marking Eid al-Fitr early on June 25.
"I have a small condition about my blood pressure, related to my diabetes," Erdogan told reporters in front of the Mimar Sinan Mosque after prayers in Istanbul's Ataşehir district.
"Thank God, I'm well now," he added.
Hürriyet reporter Aziz Özen, who was following Erdoğan, said he saw the president collapse at 6 a.m. before the start of the prayers.
"The president arrived at the mosque at 5:20 a.m. After exchanging Eid greetings with citizens, he entered the mosque and started waiting. The fact that he started leaning toward the left while sitting at around 6 a.m. drew attention from those around him. Bodyguards quickly ran to the scene and then the doctors came," said Özen.
"The president was taken to another part of the mosque on a stretcher. Reporters were not allowed near the mosque until Erdoğan had spoken to them after the prayers," he added.
REUTERS, HURRIYET