Iran, Qatar send Saudis support after bombing near Mecca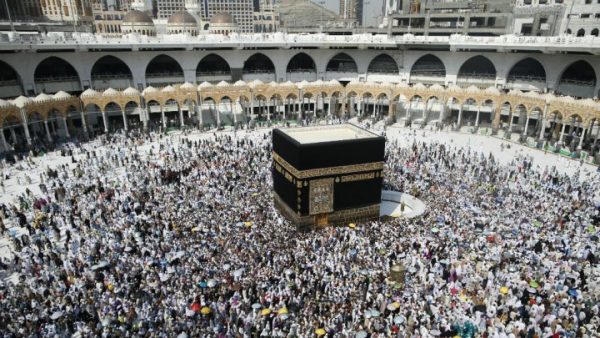 Iran and Qatar have expressed support for Saudi Arabia following a suicide bombing near Islam's holiest site. A man who was planning to attack Mecca's Grand Mosque detonated himself after security forces surrounded him.
Regional rivals sent Saudi Arabia their support after police foiled a suicide bomber near Islam's holiest site during Ramadan – an event that drew more than 1 million people this year. Friday's explosion caused a three-level building to collapse, injuring 11 people, including six foreign pilgrims and, lightly, five members of the government's security forces, Saudi Arabia's Interior Ministry announced.
Shiite Iran and Sunni Saudi Arabia have spent years locked in bitter battles and proxy wars for regional influence and have had no diplomatic relations since January 2016. On Saturday, however, Bahram Ghassemi, the spokesperson for Iran's Foreign Ministry, sent word of his nation's "readiness to assist and cooperate with other countries to confront these criminals, who deal death and ignorantly spread hate."
Saudi Arabia and its allies severed all ties with Qatar earlier this month accusing it of supporting "terrorist groups" in the region, a charge the government in Doha denies. Despite Gulf states' orchestrated campaign to isolate Qatar, on Saturday the Foreign Ministry expressed "solidarity with the brotherly kingdom of Saudi Arabia."
'This blessed country'
Police said they engaged in a shootout at the three-storey house with the suicide bomber, who blew himself up and caused the building to collapse. He died, according to the Interior Ministry's statement, and police arrested five other people.
Saudi state television aired footage after Friday's raid near the Grand Mosque, showing police and rescue personnel running through the neighborhood's narrow streets. The blast demolished the building, its walls crushing a parked car. Nearby structures appeared peppered with shrapnel and bullet holes.
The Interior Ministry said the thwarted "terrorist plan" would have violated "all sanctities by targeting the security of the Grand Mosque, the holiest place on Earth." The ministry charged that the conspirators had "obeyed their evil and corrupt self-serving schemes managed from abroad whose aim is to destabilize the security and stability of this blessed country."
Since late 2014, the kingdom has faced periodic bombings and shootings claimed by the "Islamic State." Saudi officials said three terror groups had planned Friday's attack against the Grand Mosque: two based in Mecca and a third in the nearby city of Jeddah.
DW