Kushner sought a secret channel to talk to Russia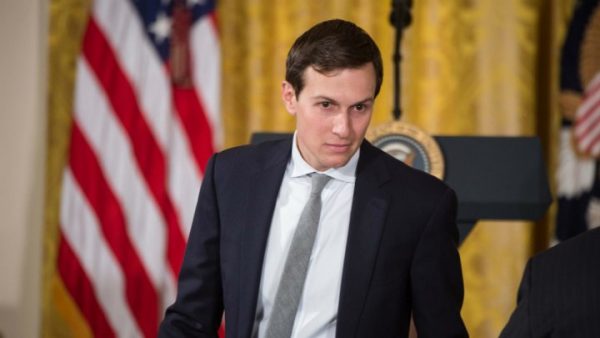 Jared Kushner, President Trump's son-in-law and senior adviser, spoke in December with Russia's ambassador to the United States about establishing a secret communications channel between the Trump transition team and Moscow to discuss strategy in Syria and other policy issues, according to three people with knowledge of the discussion.
The conversation between Mr. Kushner and the ambassador, Sergey I. Kislyak, took place during a meeting at Trump Tower that Mr. Trump's presidential transition team did not acknowledge at the time. Also present at the meeting was Michael T. Flynn, the retired general who would become Mr. Trump's short-lived national security adviser, the three people said.
It is unclear who first proposed the communications channel, but the people familiar with the meeting said the idea was to have Mr. Flynn speak directly with a senior military official in Moscow to discuss Syria and other security issues. The communications channel was never set up, the people said.
The three people were not authorized to discuss the December meeting and spoke on the condition of anonymity. The White House declined to comment on Friday night.
News of the discussion was first reported by The Washington Post. The revelation has stoked new questions about Mr. Kushner's connections to Russian officials at a time when the F.B.I. is conducting a wide-ranging investigation into Russia's attempts to disrupt last year's presidential election and whether any of Mr. Trump's advisers assisted in the Russian campaign.
Current and former American officials said Mr. Kushner's activities, like those of many others around Mr. Trump, are under scrutiny as part of the investigation. But Mr. Kushner is not currently the subject of a criminal investigation.
In the days after the meeting with Mr. Kislyak, Mr. Kushner had a separate meeting with Sergey N. Gorkov, a Russian banker with close ties to Russia's president, Vladimir V. Putin.
The Post reported that the direct line between the transition team and the Kremlin in concept would have been conducted through Russian diplomatic facilities to avoid being monitored in American communication systems. The Post also reported that Mr. Kushner had proposed the communications channel and that it took Mr. Kislyak by surprise. The New York Times could not immediately confirm these details.
Even if the proposal was designed primarily as a conduit to discuss policy issues, it is unclear why such communications would have needed to be carried out though a secret channel.
American intelligence agencies first learned about the discussion several months ago, according to a senior American official who had been briefed on intelligence reports. It is unclear whether they learned about it from intercepted Russian communications or by other means.
Mr. Trump came into office promising improved relations with Russia on numerous issues, including greater cooperation to try to end the civil war in Syria. During the presidential campaign, he frequently criticized the Obama administration's Syria policy as unnecessarily antagonistic toward Russia.
The idea behind the secret communications channel, the three people said, was for Russian military officials to brief Mr. Flynn about the Syrian war and to discuss ways to cooperate there. Neither side followed up on it. And less than two weeks later, the idea was dropped when Mr. Trump announced that Rex W. Tillerson, a former chief executive of Exxon Mobil who had worked closely with Russian officials on energy deals, was his choice to become secretary of state.
The interactions between Mr. Trump's advisers and Mr. Kislyak have been a constant source of trouble for the new administration.
In February, Mr. Flynn had to resign as national security adviser for misleading Vice President Pence about the nature of phone calls he had in late December with the Russian ambassador. Mr. Flynn had told Mr. Pence that the two men had merely exchanged holiday pleasantries, when in fact they had discussed sanctions that the Obama administration had imposed on Russia for its campaign to disrupt the election.
Weeks later, Attorney General Jeff Sessions was forced to recuse himselffrom the Justice Department's Russia investigation after it was revealed that he had not disclosed during his confirmation process meetings he had with Mr. Kislyak in 2016. Then, during a May 10 Oval Office meeting with Mr. Kislyak and the Russian foreign minister, Sergey V. Lavrov, Mr. Trump disclosed highly classified intelligence about the Islamic State to the Russians.
During that meeting, Mr. Trump also told the Russian officials that the firing of the F.B.I. director, James B. Comey — who was leading the bureau's investigation into Moscow's activities during the campaign — had relieved "great pressure" on him, according to a document summarizing the meeting.
On Friday, Reuters reported that Mr. Kushner had at least two previously undisclosed phone calls with Mr. Kislyak between April 2016 and Election Day. The calls focused on how to improve economic relations between the United States and Russia, and how the two countries could better cooperate in the fight against Islamist extremism, Reuters reported, citing six current and former American officials.
That article said it was unclear whether Mr. Kushner spoke to Mr. Kislyak on his own or with other advisers to Mr. Trump.
Jamie Gorelick, a lawyer for Mr. Kushner, said in a statement that her client "participated in thousands of calls in this time period."
"He has no recollection of the calls as described," she said. "We have asked for the dates of such alleged calls so we may look into and respond."
"But we have not received such information," Ms. Gorelick added.
Two congressional intelligence committees are conducting parallel investigations into Russian interference in the presidential campaign, and in recent weeks, the panels have accelerated their efforts to obtain documents from Mr. Trump's campaign advisers, sometimes using subpoenas.
This week, the Senate Intelligence Committee asked the Trump campaign's treasurer to preserve and produce all documents — including phone records and emails — dating to its official start in June 2015, according to one person associated with the campaign. The person, who spoke on the condition of anonymity to discuss the continuing investigation, said former staff members had been instructed to cooperate with the committee's inquiry.
The person said the request came from Senators Richard M. Burr, Republican of North Carolina, and Mark Warner, Democrat of Virginia, the committee's two senior members.
NY TIMES