Lebanese delegations in Washington to soften proposed sanctions against Hezbollah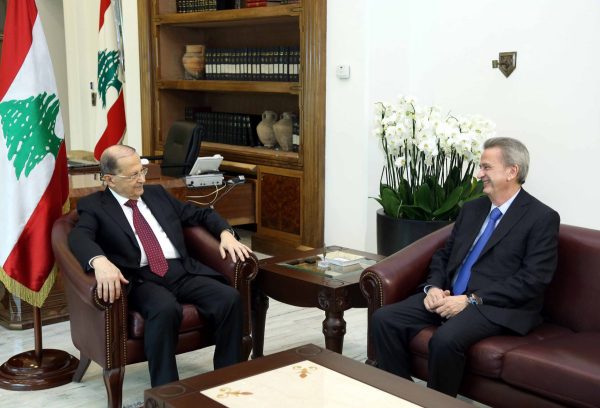 President Michel Aoun met Wednesday with Central Bank Governor Riad Salameh. The talks reportedly focused on Lebanon's financial and monetary situation, National News Agency reported.
The meeting comes amid requests demanding the extension of the governor's term for another six years.
The meeting came ahead of Cabinet session chaired by Prime Minister Saad Hariri. Hariri had said Monday following a meeting with Aoun on Monday that the issue of Salameh's term renewal "will be decided soon."
But the issue was not on the agenda on Wednesday and never discussed despite media reports indicating that the cabinet was supposed to approve the renewal of Salameh's term on Wednesday amid increasing concerns over monetary stability in Lebanon.
Monetary concerns have been inflamed amid reports that the US congress is preparing to amend the Hezbollah Financing Prevention Act (HIFPA) of 2015. The amendments expand the list of entities that may face sanctions for providing support for Hezbollah and significantly bolsters reporting on the financial activities of the party's affiliated entities and even political allies.
Salameh, who assumed the post since 1993, is widely seen as a guarantor of monetary stability and has been credited with stabilizing the Lebanese pound and boosting the central bank's foreign reserves.
The central bank governor, who had spearheaded efforts to contain the repercussions of HIFPA 2015, said Monday Lebanon will hold discussions with US officials to soften the proposed expanded sanctions.
Ad-Diyar newspaper reported that a Lebanese banking delegation, which includes a group of bankers led by Salameh, headed to Washington to hold meetings with US Congress officials in an attempt to influence hard-line trends of some US financial and political bodies against Hezbollah and Lebanon.
"We need to get in contact at the level of the country as a whole because the amendments are englobing more targets which can be a problem and difficulties in Lebanon and for our banking sector," Salameh said in an interview on CNBC.
"The Lebanese government is going to put up a strategy to be able to communicate with the U.S. and try to explain the sensitivity of such a law," he added. "We hope that this bill, its amendment can be softened."
A Lebanese parliamentary and banking delegations is also already in Washington this week to discuss the new sanctions bill with U.S. officials.
The delegation is comprised of MPs Yassin Jaber and Mohammed Qabbani, media adviser to the Speaker Ali Hamdan and Lebanon's ambassador to Washington Antoine Shedid.
During the one-week planned visit, the delegation is set to hold talks with congressmen, senators, deputies and key figures in the US administration.
Sources from the delegation told al-Joumhouria daily "the visit is a continuation of the mission initiated by the parliamentary delegation last year to discuss ways to strengthen the Lebanese-American relationship, particularly that Lebanon has achieved the necessary financial legislation in accordance with international banking and financial standards."
AnNahar/NNA