U.S. journalists were kept out of the Trump Lavrov meeting, but not Russian press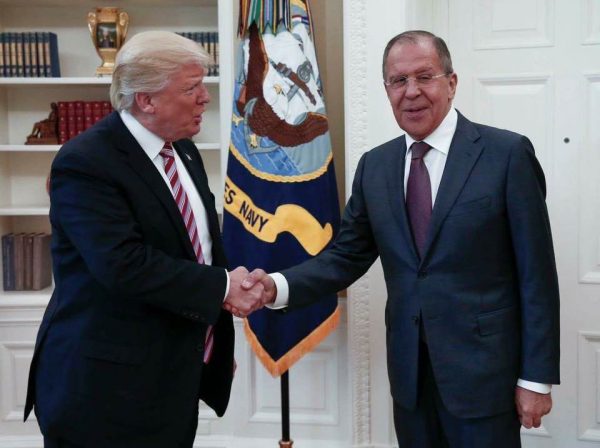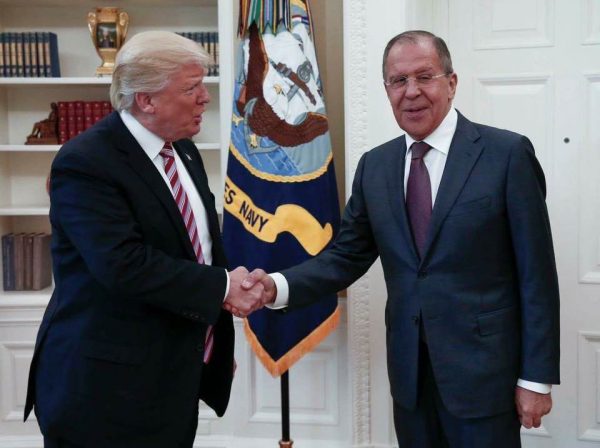 It was all smiles Wednesday when President Trump welcomed Russia's foreign minister and U.S. ambassador to the White House.
Of course, we only know that thanks to photos from Russia's state news agency. Their photographer was the only one allowed in the meeting, while U.S. journalists were kept out.
That's right. Although the encounter between Trump, Foreign Minister Sergei Lavrov, and Ambassador Sergey Kislyak took place in the center of American power, it was TASS, the official Russian news agency, that had the pictures.
According to Andrei Sitov, the TASS bureau chief in Washington, the Russian photographer who took the photos covers Lavrov full time and came with him on the plane. He was presented to the White House as the official photographer.
It was a curious choice for a meeting that took place less than a day after Trump fired FBI Director James B. Comey, who was leading the investigation into Trump's campaign ties to Russian officials.
Questions about whether Trump fired Comey because of that investigation have swirled since the firing was announced on Tuesday evening.
Lavrov arrived in Washington on Tuesday and met with Secretary of State Rex Tillerson this morning. As he was entering the Oval Office, a reporter asked whether the dismissal of Comey "cast a shadow" over today's meetings. Lavrov joked the question away. "Was he fired?" he sarcastically asked. "You are kidding. You are kidding."

After the news conference, Trump met face-to-face with Lavrov. The Russian Foreign Ministry was quick to capitalize on the moment, tweeting one of the first photos of the two men shaking hands.
Also in attendance was Kislyak, Russia's ambassador to the United States. Kislyak's presence was surprising — he's a key figure in the investigation of the Trump administration's ties to Russia.
Trump's national security adviser, Michael T. Flynn, was fired after it came out that he'd met with Kislyak on several occasions but hadn't disclosed the meetings. Attorney General Jeff Sessions also recused himself of anything related to the Russia investigation after it came out that he, as a U.S. senator, had met twice with Kislyak in July and September, interactions he did not disclose when asked at his Senate confirmation hearing this year for the attorney general position.
Trump described Wednesday's meeting with Lavrov and Kislyak as "very, very good," observing that both the United States and Russia want to stop "the horrible horrible killing in Syria as soon as possible."
As the meeting concluded, the wire service Getty released photos credited to TASS showing all three men standing together in a chummy moment.

Matt Novak from Gizmodo tweeted the photos ….
… and Twitter was quick to respond, noting the strange encounter and offering its own sarcastic quips.

In addition to the Russian officials, Trump also welcomed Henry Kissinger to the White House Wednesday morning. The meeting was not on the president's official schedule, and it took the press pool by surprise. They were ushered into the Oval Office expecting to see Lavrov, but instead found Trump chatting with the 93-year-old former American diplomat.
Kissinger, of course, is most famous for serving as national security adviser and secretary of state under President Richard Nixon. More recently, he has advised Trump on key appointments and praised his leadership. Kissinger "has maintained close ties to Russian President Vladimir Putin," according to Politico, and said previously that Comey was "not doing a good job."
Kissinger is both celebrated as a realist statesman and reviled as an amoral meddler in the affairs of foreign countries. He helped orchestrate a more open relationship between the United States and China and was awarded the Nobel Peace Prize in 1973, but also helped overthrow Chilean President Salvador Allende and pushed the U.S. to secretly bomb Cambodia.
Of the meeting, Trump said that he and Kissinger talked about Russia "and various other matters," including Syria.
There's nothing inherently wrong with a president inviting foreign representatives to the Oval Office, but sitting presidents do not usually host foreigners linked to major scandals in their own administration.
They also tend to avoid photo-ops with representatives of countries accused of interfering in U.S. elections.
They might also avoid someone so closely associated with Nixon on a day when their decision to fire the sitting FBI head is being compared to some of that disgraced president's worst offenses.
WASHINGTON POST