US asks UN to focus on Iranian and Hezbollah 'destructive' activities in ME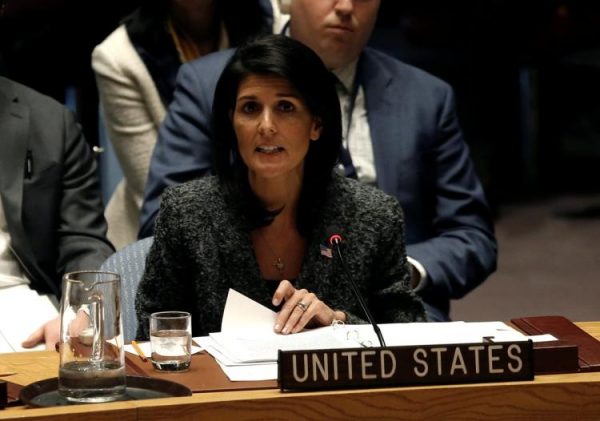 The United States on Thursday urged the U.N. Security Council to devote less attention to the Israeli-Palestinian conflict and make what she called Iran's "incredibly destructive" activities a priority in the Middle East.
U.S. Ambassador Nikki Haley branded Iran the "chief culprit" of conflicts in the Middle East and vowed to work with Washington's partners to demand Iran comply with U.N. resolutions.
Haley cited Iran's support for Syrian President Bashar al-Assad, weapons supplies to Huthi rebels in Yemen, training of Shiite militias in Iraq and the presence of Tehran-backed  Hezbollah in Lebanon as destabilizing.
"The Israel-Palestinian issue is an important one, deserving of attention. But that is one issue that surely has no lack of attention around here," Haley told the monthly council meeting on the Middle East.
"The incredibly destructive nature of Iranian and  Hezbollah activities throughout the Middle East demands much more of our attention."
"It should become this council's priority in the region."
Haley's remarks came a day after U.S. Secretary of State Rex Tillerson branded the Iran nuclear deal a failure and two days after President Donald Trump ordered a review of the lifting of sanctions under the agreement.
The U.S. call to shift the focus to Iran drew a cool response from other U.N. Security Council permanent members.
France, Russia and China made no mention of Iran during the council's monthly meeting on the Middle East, instead emphasizing the importance of an Israeli-Palestinian settlement to bring regional peace.
Addressing the Security Council, Iran's ambassador hit back, accusing the United States of waging a "misleading propaganda campaign" against his country.
"The U.S. and the Israeli regime want to remove the Palestinian issue — that is central to all conflicts in the Middle East — from these open debates," said Iranian Ambassador Gholamali Khoshroo.
"By blaming all others but the occupier, the U.S. seeks to erase the question, rather than addressing it."
The council holds a monthly meeting on the Middle East and the Palestinian question. Haley has repeatedly accused the top U.N. body of being biased against Israel.
Describing the monthly meetings as "Israel-bashing sessions," Haley said the debates "do nothing" to address differences but were instead pushing Israel and the Palestinians further part.
Trump's administration has fiercely criticized the government of ex-president Barack Obama for refusing in December to use its U.N. veto to block a resolution demanding Israel halt expansion of Jewish settlements in the occupied West Bank.
A vocal supporter of Israel, Haley has branded the resolution, which was adopted after the United States abstained, a "terrible mistake."