Aoun tells Fillion's adviser: Lebanon will respect the choice of the French people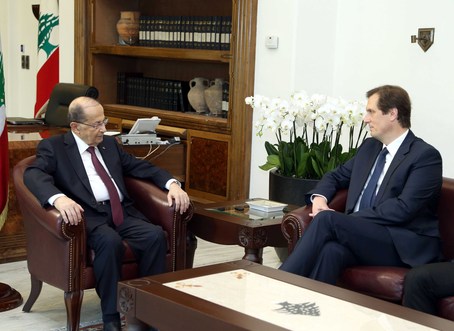 President Michel Aoun received on Saturday at the Baabda Presidential Palace the Special Adviser to the embattled French presidential candidate Francois Fillon, Jérôme Chartier who delivered Fillon's greetings and apologies for not being able to come to Lebanon as it was decided due to "emergency reasons."
Chartier , who was accompanied by a French delegation said that Fillon is "keen on boosting Lebanese-French relations," noting that he will continue supporting Lebanon at all levels in case he won the elections.
"The Lebanese file will remain on top of his priorities," he added.
For his part, Aoun expressed gratitude to Fillon and his supporting stances towards Lebanon, adding that his country will respect the choice of the French people in electing their president.
He stressed that he will cooperate with the next president.
They also tackled the general situation in the region and Syria in particular, as well as the developments related the Middle East crisis.
Chartier later met with Speaker Nabih Berri at the latter's residence in Ain al-Tineh.
"The meeting is to stress the deep ties between Fillon and Lebanon," Chartier said.
Chartier told the press that he relayed to Berri Fillon's regards and confirmed the solid relation between France and Lebanon, a country which was "dear to Fillon's heart."
"Tonight, there will be a general assembly for the support of candidate Fillon, especially that there is a large Lebanese community partaking in the French elections."He added
He said that his visit to Lebanon comes in the context of friendship.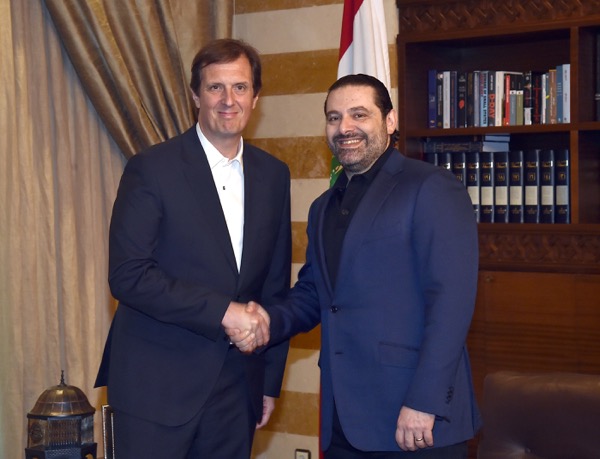 The French official also met with Prime Minister Saad Hariri.
"I came as an old friend of Lebanon to offer the friendship of Fillon to political and religious figures … to strengthen the personal ties between Fillion and the Lebanese and Lebanon."
France's 11 presidential candidates will compete in the April 23 first-round vote, with the top two vote-getters moving on to the presidential runoff on May 7.
Chartier is also a member of the National Assembly of France. He represents the Val-d'Oise department, and is a member of The Republicans.
Fillon is a former French prime minister seeking a return to power for the mainstream centre right after a five year hiatus from national politics.
He began as one of the leading lights of the 2017 French presidential race, yet his Les Républicains campaign has been hit by claims he paid family members for parliamentary jobs they allegedly never performed.
Fillon has been charged over accusations he gave his wife a fake parliamentary job for which she was paid hundreds of thousands of euros.
Fillon has claimed his leftwing opponents are behind the accusations against him, which first emerged in the Canard Enchaine newspaper in January.
The charges have crippled his campaign and have deeply damaged his Republicans party. Both him and his wife are being investigated.
His ratings have have tumbled since the fake jobs allegations emerged and he is now trailing in third place in the election first round, according to opinion polls, which would mean elimination.