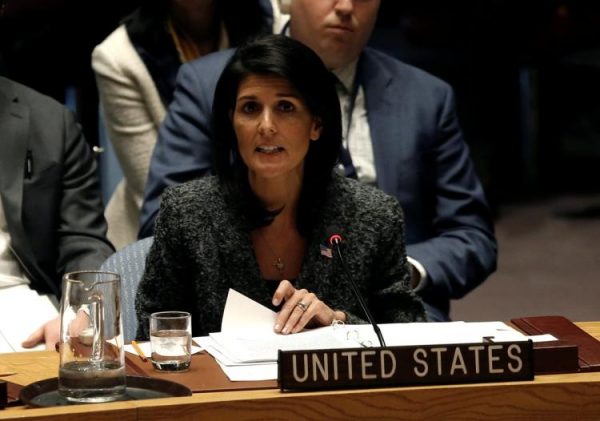 The United States on Friday threatened to take further military action in Syria following its missile strikes on an air base in the war-wracked country in retaliation for a suspected chemical attack.
"The United States took a very measured step last night," US Ambassador Nikki Haley told the UN Security Council.
"We are prepared to do more, but we hope it will not be necessary."
The Security Council was meeting in an emergency session to discuss the US actions in Syria that Russia branded a "flagrant violation of international law and an act of aggression" against Syria.
Haley said the air strikes destroyed an air field from which the United States believes the chemical attacks on the rebel-held town of Khan Sheikhun were launched.
"We were fully justified in doing so," she said.
Eighty-six people including at least 27 children died in Khan Sheikhun in an attack the United States has blamed on Syrian President Bashar al-Assad.
"The United States will no longer wait for Assad to use chemical weapons without any consequences," Haley said. "Those days are over."
While threatening further strikes, the US envoy also said it was time to press on with a political solution to the six-year war.
"Now we must move to a new phase: a drive toward a political solution to this horrific conflict."
Haley again took a swipe at Russia for failing to rein in its ally and said Moscow must reconsider its support for Assad.
"The world is waiting for the Russian government to act responsibly in Syria. The world is waiting for Russia to reconsider its misplaced alliance with Bashar al-Assad," she said.
The United States fired 59 Tomahawk cruise missiles from warships in the Mediterranean at the Shayrat airfield, dealing heavy damage to the base.
The strike — Trump's biggest military decision since taking office — marked a dramatic escalation in American involvement in Syria's six-year civil war.
It followed days of outrage at images of dead children and victims suffering convulsions from the suspected sarin gas attack in the rebel-held town of Khan Sheikhun.
FRANCE24/AFP
This error message is only visible to WordPress admins
Error: No connected account.
Please go to the Instagram Feed settings page to connect an account.