Hariri calls Obama's retraction of 'red line' a 'crime against Syria and its people'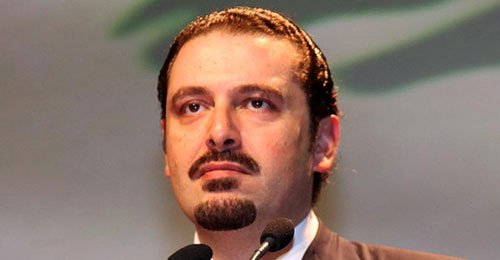 Lebanon Prime Minister Saad Hariri criticized on Thursday former US president Barack Obama for failing to enforce his own "red line" in 2013 over the use of chemical weapons in Syria.
"Each passing day shows undoubtedly that the regime of Bashar al-Assad, which commits daily atrocities against its own people using barrel bombs and incendiary weapons, has resorted again to chemical massacres by using sarin gas in Khan Sheikhun in Idlib," Hariri said in a statement.
"This escalation in genocide proves that the retraction of former U.S. president Barack Obama from the red line he had drawn at the use of internationally banned chemical weapons by the Assad regime was a crime against Syria, its people and their future, " Hariri added.
Turning to Assad's ally Russia, the premier said that "by virtue of its military presence in Syria and the role it plays in the Security Council, it should rein in Bashar al-Assad and his regime from continuing to commit such war crimes and crimes against humanity."
At least 86 people were killed early on Tuesday in rebel-held Khan Sheikhun, and dozens more have received treatment for convulsions, breathing problems and foaming at the mouth.
World powers have pointed the finger at the government of Assad, but the regime denied any responsibility for the attack on Thursday.
"The Syrian army has not, did not and will not use this kind of weapons — not just against our own people, but even against the terrorists that attack our civilians with their mortar rounds," Syrian FM Walid Mouallem said.
Russia also stood by its longtime ally, with President Vladimir Putin warning against a rush to judgment.
Similarly US president Donald Trump is blaming his predecessor, Barack Obama, for the ghastly chemical-weapons attack in Syria on Tuesday.
"These heinous actions by the Bashar al-Assad regime are a consequence of the past administration's weakness and irresolution," Trump declared in a statement. "President Obama said in 2012 that he would establish a 'red line' against the use of chemical weapons and then did nothing."
How history will judge Obama's retraction of 'red line' ?
The Atlantic's Jeffrey Goldberg was quoted as saying last year after talking with former US Secretary of State John Kerry:
"History may record Aug. 30, 2013, as the day Obama prevented the U.S. from entering yet another disastrous Muslim civil war, and the day he removed the threat of a chemical attack on Israel, Turkey, or Jordan. Or it could be remembered as the day he let the Middle East slip from America's grasp, into the hands of Russia, Iran, and ISIS."
Goldberg commented on the recent chemical attack by saying Assad "now appears to have dipped into a hidden supply of nerve agents, or acquired some from outside (from, say North Korea, which uses VX as an assassin's tool, and which previously helped him try to develop nuclear weapons). It would not be surprising if Assad uses these agents. He is out to end this war, at least in the west of the country, and whatever the uproar, he can expect his potential victims to live in terror, now, as they never have before."
"Who can stop him? Once again, it will almost certainly have to be the Russians. We'll see if Trump can cut a deal with Putin as good as the one Obama got." Goldberg added