Aoun promised a "new approach and big achievements"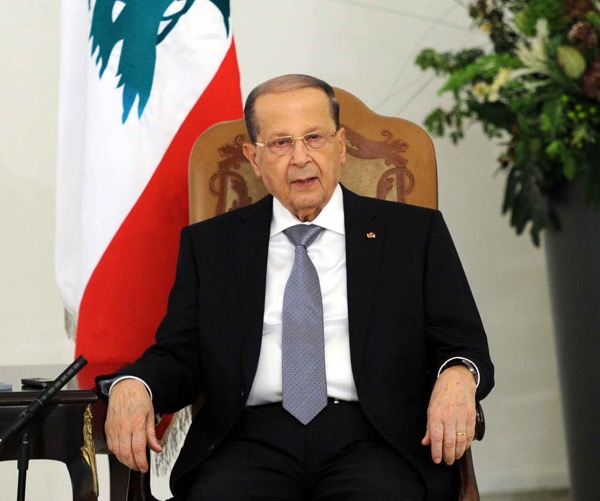 President Michel Aoun on Friday promised a new approach and vowed  that the country will soon witness "a phase of big achievements."
"It is impossible for the State to continue with the same situation and it will move forward with a new approach," Aoun said during a meeting in Baabda with Energy Minister Cesar Abi Khalil and the ministry's team of consultants.
"We have started a new era that will be dynamic, vigorous and full of ideas, determination and work," the president added without elaborating on how he intends to do it
But Aoun's optimism appears to be  a pipe dream specially because  after the announcement of Minister Hussein Hajj Hassan that the country's deficit is 33%  and that the Lebanese exports  dropped from $4.1 to $2.8 Billion US dollars .
Aoun's team also rejected a proposal by Lebanese Forces leader  Samir Geagea that called for  privatizing the electricity sector and same the annual subsidy of $2 billion US dollars.
On the contrary Aoun's stance towards Hezbollah is hurting the Lebanese economy and could even result in the withdrawal of UNIFIL forces from south Lebanon according to Lebanese media reports
During  a recent official visit to Egypt, Aoun declared that  Hezbollah's arsenal was "not in contradiction with the state and are an essential part of defending Lebanon." His comments prompted the UN Special Coordinator for Lebanon to tweet that UN Security Council Resolution 1701 calls for the "disarmament [of] all armed groups in Lebanon."
Aoun pledged to endorse an "independent foreign policy"  after he was elected  to protect Lebanon from "the fires burning across the region " and pledged  economic growth and security,  but  according to analysts his stance towards the Iranian -backed Hezbollah militant group  contradicts his pledge to pursue an  "independent foreign policy" , specially since Hezbollah is  a division of the Iranian Qods force and is completely funded by Iran.
Aoun was elected president last  October 2016 after  receiving the endorsement  of PM Saad Hariri  and Geagea  who consider Hezbollah's arms illegitimate .