Aoun, Geagea call for a parliamentary vote on electoral law if no deal reached on a new law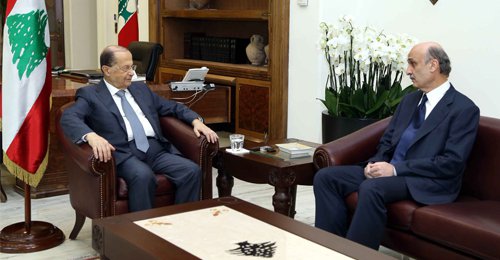 Lebanese Forces chief Samir Geagea  AND  President Michel Aoun  met  at the Baabda Palace, and stressed that political parties should seek a parliament vote on a new electoral law for the upcoming elections if  the parties  fail to agree on a consensual law to govern the polls.
"Shall we reach some kind of accord it would be fine, otherwise let the parliament play its role and vote on a new electoral law," said Geagea after talks with Aoun that focused on the controversial law file.
"We cannot keep the current (1960) law," said Geagea, "We have to either agree on a new one or head to parliament for a vote knowing that the 1960 law is rejected."
1960 law buried 
In a related development the Change and Reform parliamentary bloc ( Aoun's  bloc)  stressed Tuesday that there will be no return to the controversial 1960 electoral law, while noting that efforts to find a new electoral law are still ongoing.
In a statement issued after its weekly meeting, the bloc called for "fair standards" that lead to an electoral law that achieves "correct and effective political representation."
"Everyone has become confident that the 1960 law has been buried and that the elections will be inevitably held – hopefully within the deadlines – and according to a law conforming to the standards of the constitution and the National Pact," it added.
 Privatizing  the electricity sector
Commenting on  LF's proposal  to privatize the electricity sector, Geagea said: "We must find quick and productive solutions. We have to privatize the electricity sector because the results today are unacceptable and we have to try something new.
"The production and distribution of electricity is critical and affects each and every citizen. We raised the privatization issue to have some hope. I don't agree with those who said it requires 5 to 10 years to finalize," he said.
"We are having discussions with all parliamentary blocs to garner support for this proposal which provides 24/24 power supply without imposing additional taxes, and at the same time reduces the treasury's costs," he concluded.