Tillerson urges Russia to pull back in eastern Ukraine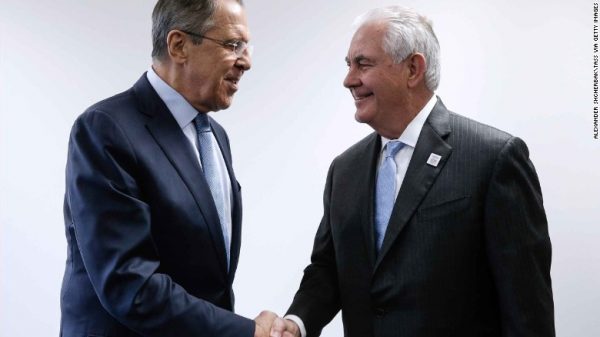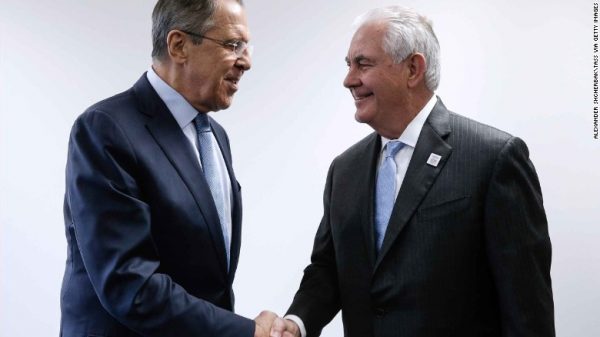 By Carol Morello
Secretary of State Rex Tillerson made his debut on the world stage Thursday, meeting the Russian foreign minister and urging Moscow to pull back in eastern Ukraine, then signing a joint statement condemning North Korea's latest ballistic missile test.
He attended almost a dozen meetings with his diplomatic counterparts from the Group of 20 major world economies, all fairly routine for a secretary of state on an overseas trip.
But in one sense it was a landmark day for Tillerson, a former ExxonMobil chief executive with no previous experience in public office. For the first time since addressing employees upon arriving at the State Department two weeks ago, he made a public statement about foreign policy, taking a firm line on Russia and Ukraine. That suggested that the stasis that has gripped the State Department in recent weeks may be ebbing.
The ministerial conference was months in the planning. With the change in administrations in Washington, however, it was not certain Tillerson would attend until it was too late to book a large block of rooms for him and his entourage. So they ended up staying 40 minutes from Bonn, in a large, fading hotel attached to a sanatorium with a casino and thermal baths across the street.

The joint statement on North Korea, issued with South Korea and Japan, repeated the U.S. commitment to defend the two allies by providing "deterrence, backed by the full range of its nuclear and conventional defense capabilities."
But the centerpiece of Tillerson's visit was his one-hour meeting with Russian Foreign Minister Sergei Lavrov, the first face-to-face meeting between top U.S. and Russian officials since President Trump was sworn in.
When it was over, Tillerson came out and read aloud a five-sentence statement.
He said they had discussed a "range of issues," but the only one he mentioned specifically was the ongoing violence in eastern Ukraine. The conflict began when Russia annexed Crimea in 2014, then backed separatists in eastern Ukraine in what has become a grinding, protracted war, despite a deal to end it, called the Minsk agreement.
In Brussels on Thursday, Defense Secretary Jim Mattis said Russia must "prove itself" before the United States agrees to any military cooperation. In Bonn, Tillerson delivered a more nuanced message.
"As I made clear in my Senate confirmation hearing, the United States will consider working with Russia when we can find areas of practical cooperation that will benefit the American people," he said. "Where we do not see eye to eye, the United States will stand up for the interests and values of America and her allies. As we search for new common ground, we expect Russia to honor its commitment to the Minsk agreements and work to de-escalate the violence in Ukraine."
British Foreign Secretary Boris Johnson took much the same view of Russia in his meeting with Tillerson.
"You've got to engage with Russia, but you've got to engage in a very guarded way," Johnson told the BBC. "You've got to beware of what they're up to, and there's no question that when you look at Russian activity on the cyber front, when you look at what they're doing in the western Balkans, when you look at what's been happening in Ukraine, you've got to be very, very cautious. And so I think it's entirely right to have a dual-track approach."
Lavrov, known for his wiles, managed to suggest Russia is innocent of accusations it has meddled in U.S. politics. He brushed off a question about the seeming disorder in Washington, saying, "You should know we do not interfere in the domestic matters of other countries."
The meetings were not without small, awkward moments.
Reporters allowed in briefly when Tillerson and Lavrov started talking were ushered out while Tillerson was just starting to greet Lavrov. Though the handler seeming to push a cameraman out of the way was Russian, Lavrov turned to Tillerson and asked, "Why do they shoosh them out?"
A neophyte as a public official, Tillerson already seems to have developed a jaundiced view of reporters, which might explain why he ignored most of the foreign policy questions reporters doggedly asked at the start of almost every meeting.
A reporter allowed in briefly for Tillerson's meeting with Johnson asked how turmoil in Washington would affect the transatlantic alliance. Johnson did not answer. But as journalists were leaving, he asked whether his and Tillerson's remarks were still being recorded.
Tillerson advised him, "They never give up."
WASHINGTON POST