Sen. Franken says his GOP colleagues question Trump's mental health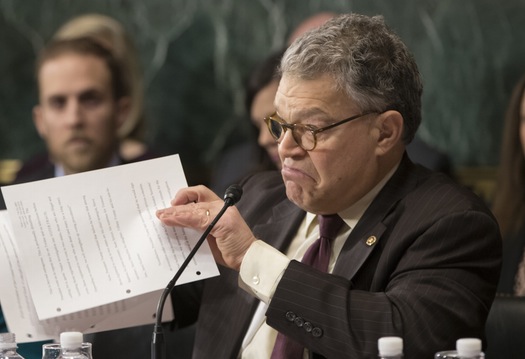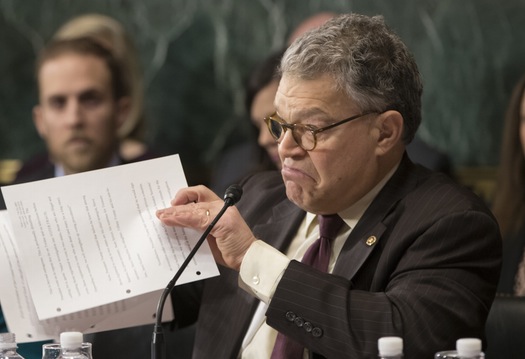 Sen. Bernie Sanders, I-Vt., on Sunday called President Donald Trump a "pathological liar," while Sen. Al Franken, D-Minn., reiterated that "a few" Republican senators are concerned about the president's mental health.
The strong words from two high-profile senators came as Democrats attacked Trump's travel ban and said that members of his administration should be investigated or have security clearances suspended for recent comments or conversations with Russian officials.
 Sanders made the charge on NBC's "Meet the Press" as he attacked Trump's travel ban – which faces a federal court challenge – and Republican plans to revamp the Affordable Care Act.
"We have a president who is delusional in many respects, a pathological liar," Sanders said.
"Those are strong words," moderator Chuck Todd interjected while asking Sanders whether he can work with a liar.
Sanders made the comments in response to Todd, who said that some of the senator's former aides are trying to draft him to start a new political party. For now, Sanders said, he remains committed to "working to bring fundamental reform to the Democratic Party, to open the doors of the Democratic Party" to younger, economically distressed voters.
Franken first raised questions about the president's mental health Friday night on HBO's "Real Time with Bill Maher," saying Republican senators privately express "great concern" about Trump's temperament. The senator doubled down Sunday morning, telling CNN's "State of the Union" that "a few" Republican senators feel that way.
"In the way that we all have this suspicion that – you know, that he's not – he lies a lot, he says things that aren't true, that's the same thing as lying, I guess," Franken told moderator Jake Tapper, mentioning the president's comments about illegal voters and allegations that residents of Massachusetts traveled to New Hampshire to cast votes in the November election.
"You know, that is not the norm, uh, for a president of the United States or, actually, for a human being," Franken said.
Franken also blasted Trump's travel ban, saying the president "and his group are trying to make Americans more afraid. I think that's part of how they got elected: just make us more afraid."
Ethics violations
Elsewhere, Democratic lawmakers called for investigations into White House counselor Kellyanne Conway, who last week used a national television interview to encourage viewers to buy items from a clothing line designed by Ivanka Trump, the president's daughter. The comments appeared to violate a key ethics rule barring federal employees from using their public office to endorse products.
Hours after Conway's interview, members of the House Oversight and Government Reform Committee called on the Office of Government Ethics to recommend discipline, given that Trump, who is Conway's "agency head," holds an "inherent conflict of interest" because of the involvement of his daughter's business.
Conway's comments were "a textbook case of a violation of the law," Rep. Elijah E. Cummings of Maryland, the committee's top Democrat, told ABC's "This Week" on Sunday.
"You cannot go out there as an employee of the government and advertise for Ivanka Trump or anyone else, their products. You can't do that. And anybody else would be subject to a minimum, probably, of a reprimand, or they could literally lose their job over this," he said.
Cummings added that Conway's promotional message was "very blatant" and "intentional," and said the Office of Government Ethics should "take a thorough look" at the situation before recommending a potential punishment.
STAR  TRIBUNE