Lebanon president Michel Aoun to visit Egypt and Jordan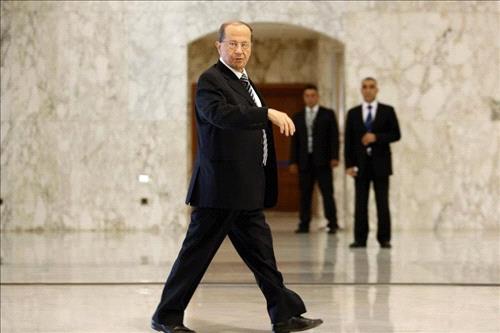 President Michel Aoun will visit Jordan and Egypt next week upon formal invitations from the leaders of both countries,his second Arab trip after his election as president, Lebanese media reported  on Saturday.
The Baabda Presidential Palace has  reportedly completed the arrangements for  Aoun's trip.
A delegation will accompany Aoun and is comprised of Minister of Finance Ali Hassan Khalil, Foreign Minister  Gebran Bassil, Interior Minister Nouhad al-Mashnouq, Economy Minister Raed Khoury and State Minister for Presidency Affairs Pierre Raffoul, and General Security chief Maj. Gen. Abbas Ibrahim, Head of the Republican Guard Brigade Brigadier General Salim Feghali in addition to an advisory, administrative, diplomatic and media delegation,al-Joumhouria daily reported.
"President Aoun informed his Cabinet that he received invitations from Egyptian President Abdel-Fattah al-Sisi and Jordanian King Abdullah II," Information Minister Melhem Riachi told reporters after Cabinet was adjourned last Wednesday .
Aoun informed the ministers that the two trips were part of a drive to improve ties between Lebanon and Arab countries, according to Riachi.
Aoun will first meet in Cairo  his Egyptian counterpart  al-Sisi and Prime Minister Ibrahim Mahlab on Monday. He will later head to the Arab League headquarters for talks with its Secretary-General Ahmed Aboul Gheit, added al-Joumhouria.
The President will also meet with Grand Imam of al-Azhar Dr. Ahmed al-Tayeb, Pope Tawadros II, Head of the Egyptian Coptic Orthodox Church, and many other key figures.
The trip is expected  to address the issue of the Syrian refugee crisis  . There are currently over 1.5 million  Syrian refugees in Lebanon
On Tuesday, Aoun will head to Jordan for talks with Jordanian King Abdullah II who will host a banquet in his honor in the presence of senior officials.
The Lebanese-Jordanian summit will address the Syrian and Iraqi refugees crisis and study the ways to alleviate their impact on the economies of both countries.
The announcement of the new visits comes after Saudi Minister of State for Arab Gulf Affairs Thamer al-Sabhan announced earlier this week that a travel advisory against Saudi nationals visiting Lebanon would be lifted. He also announced that a new ambassador to Lebanon would be appointed in the near future, and that the kingdom's national carrier, Saudia Airlines, would increase flights between the country and Lebanon.