Here is what could sink the Trump-Putin relationship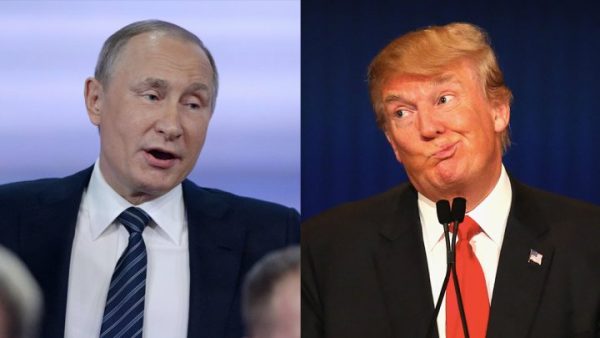 Donald Trump continues to defend Vladimir Putin. In his pre-Super Bowl interview with Bill O'Reilly, the U.S. president dismissed the Fox News host's description of the Russian president as a "killer." "There are a lot of killers," said Trump. "What do you think? Our country's so innocent?"
U.S. national security interests could certainly benefit from improved relations between Washington and Moscow, most notably by reducing the risks of nuclear war and nuclear terrorism. However, despite the optimistic signals emanating from the Trump and Putin camps, the relationship could sour quickly – and perhaps even make tensions worse.
Among the policy issues that could still drive a wedge between the United States and Russia:
Iran. Trump is sending contradictory signals on the nuclear deal with Tehran. As a candidate, he repeatedly promised to rip it up. As president, he may be looking to strengthen it. Putin will not want him to take the first option. Russia played a key role in bringing the Iran deal to fruition, in particular by developing solutions to reconcile Iran's desire for a domestic uranium enrichment capacity with the West's desire to limit this capability. Russia also continues to play an important part in the deal's implementation. At the end of 2015 Moscow took possession of 25,000 pounds of Iran's enriched uranium, and more recently – with the blessing of the Obama administration – Moscow shipped 116 metric tons of raw uranium to Iran in exchange for Tehran sending 44 tons of reactor coolant to Russia.
Putin could easily view Trump's repudiation of the deal as a provocation, and perhaps as a precursor to an American strike on Iran's nuclear facilities. Putin might even respond by authorizing the shipment of advanced Russian weaponry to Iran to counter any perceived American threat, which could easily lead to a spiraling Russian-American crisis.
Trump and Putin could also find themselves in a new nuclear arms race. Remember the furor over Trump's tweet that "the United States must greatly strengthen and expand its nuclear capability" and his "let it be an arms race" comment to MSNBC after Putin said that Russia needed to strengthen the military potential of its strategic nuclear forces.
It's not difficult to envision how a renewed Russian-American nuclear arms race might occur. The United States is building a European missile defense shield that by 2018 will cover the entire European continent. While ostensibly constructed to defend NATO against missiles from Iran, Russia believes the shield is directed at Moscow's own nuclear arsenal. In response, Putin may feel compelled to expand Russia's offensive missile forces if he believes they are needed to maintain Moscow's nuclear deterrent. That, in turn, could set off further growth in the American nuclear arsenal as well.
Russian policy in Afghanistan could also induce a Trump-Putin clash. Although Moscow professes its own fear of Islamic extremism, Russia now shares intelligence with the Taliban – the same jihadists American troops have been fighting for 15 years. While Russia claims it only exchanges information with the Taliban to fight Islamic State, the commander of U.S. forces in Afghanistan is on record as saying that Moscow is lending public legitimacy to the Taliban mainly to undermine NATO. The Taliban's continued ties to al Qaeda – combined with Trump's stated desire to focus on fighting Islamic extremism – could easily prompt Trump to demand that Moscow change its Afghan policy. It remains to be seen whether Putin would assent to such a demand.
There are, of course, other areas where the two leaders could seek common ground. One is Ukraine, the other is Syria. If the Trump-Putin relationship stays warm, the U.S. president might consider cutting off support for the broader Syrian rebel movement and partnering with Russia and the Bashar al-Assad regime to fight solely against Islamic State.
While this would no doubt please Moscow, the question is what would Putin give Trump in return? Russia entered Syria ostensibly to fight Islamic State, but in reality largely targeted other Syrian opposition groups. Putin could promise to join the American battle against Islamic State, but how would Trump react if Putin ignored this commitment? Moreover, by aligning with Russia and Assad in Syria, Trump would also join a de-facto alliance with Iran – the very country he reviles.
Similar concerns apply to Ukraine. Moscow would love for Washington to end sanctions and recognize its annexation of Crimea. Again, what would Putin give Trump in exchange? Moscow could theoretically promise to end its hybrid war in eastern Ukraine, but Putin shows no indication of allowing Ukraine to join the West and he would quite possibly renege on such a deal. Furthermore, Moscow not only wants American sanctions lifted, but even demands that Washington pay it compensation for the damage these sanctions caused.
Trump's personal relationship with Putin has yet to be determined. The U.S. president has said he respects the Russian president as a strong leader, but told O'Reilly "that doesn't mean I'm going to get along with him." Regardless of whether Putin and Trump get along, domestic political constraints could upend efforts by Trump to normalize Russian-American relations. Senate Minority Leader Charles Schumer, for example, plans to introduce a bipartisan bill requiring Trump to obtain Congressional approval before lifting sanctions on Russia. There is also a provision in current intelligence legislation working its way through Congress to create a new organization dedicated to countering Russian political interference – something which could provoke even further Russian ill-will. Even lifting the 2012 Magnitsky Act sanctioning numerous Russians for human rights violations would require approval as well – something unlikely to occur in the current environment.
Trump could also face resistance to his Russia policy within his own administration as well as the wider national security establishment. In her first appearance at the United Nations Security Council, Trump's U.N. ambassador Nikki Haley condemned Russia's "aggressive actions" in Ukraine and stated that sanctions against Russia for annexing Crimea would remain. During confirmation hearings Secretary of State Rex Tillerson called Russia a "danger" to the United States, C.I.A. Director Mike Pompeo criticized Russia for "threatening Europe" and "doing nothing" to fight Islamic state and Defense Secretary James Mattis said he considered the "principal threats to start with Russia." While Trump could theoretically circumvent any resistance by simply ordering the military to cooperate with Russia in Syria, the Pentagon has already stonewalled a similar approach by former Secretary of State John Kerry.
Trump may well succeed in changing the tenor of the American-Russian relationship. But a change in form may not lead to a change in policy.
REUTERS EDITORIAL