Trump warns Israel that new settlements are bad for peace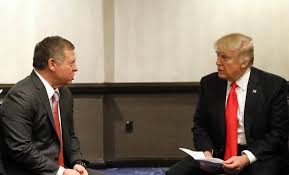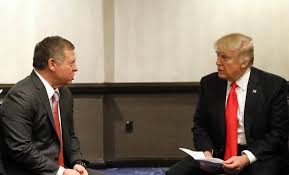 The White House on Thursday gently warned Israel that new or expanded settlements in the West Bank "may not be helpful" in achieving a Middle East peace, while insisting it has no "official position on settlement activity."
A statement issued by press secretary Sean Spicer said that although the administration does not believe settlements are "an impediment to peace, the construction of new settlements or the expansion of existing settlements beyond their current borders may not be helpful in achieving that goal."
"The American desire for peace between the Israelis and the Palestinians has remained unchanged for 50 years," Spicer's statement said, a reference to President Trump's insistence that a return to the Middle East negotiating table is a goal he hopes to achieve.
While the statement carefully parsed it words, it marked a step away from what some Trump officials — and the president's designated new ambassador to Israel — have said in favor of settlements. Trump's first foreign call as president was to Israeli Prime Minister Benjamin Netanyahu, and he has been sharply critical of former president Barack Obama, whom he characterized as weak on Israel.
The apparent genesis of the statement was a story in Thursday's Jerusalem Post, which quoted an unnamed senior administration official telling Netanyahu's government to stop a spree of housing construction approved since Trump's inauguration, lest it interfere with Trump's plans to work toward a peace plan. "As the president has expresses many times," Spicer's statement said, "he hopes to achieve peace throughout the Middle East region."
The White House thought the rebuke, as reported, went too far and issued Spicer's statement in an attempt to dial it back, while also giving itself breathing room as it develops a more comprehensive policy on the Middle East.
At the very least, the White House wants to wait until Netanyahu's scheduled visit to Washington Feb. 15. Newly sworn-in Secretary of State Rex Tillerson spoke Thursday with Netanyahu, according to the State Department.
The administration has also pulled back somewhat on a pledge to quickly move the U.S. Embassy in Israel from Tel Aviv to Jerusalem, which the Palestinians also claim as their capital. Middle Eastern diplomats who have been in contact with the administration have said they believe it will not take that step immediately, perhaps waiting at least until June, when an Obama-issued waiver of a congressional mandate to make the move will expire.
Trump's frequent mention of Middle East peace suggests it's a real goal for him, despite the failure of the last effort, in 2013 and 2014, and bleak signs since then that either side is ready to bargain.
Trump has surrounded himself with at least three close advisers for whom Israel and its security are a paramount concern — his son-in-law, Jared Kushner; his ambassador choice, David Friedman; and his chief of international negotiations, Jason D. Greenblatt. Trump recently said that if Kushner — who has no foreign policy background — can't bring peace to the region, "nobody can."
Thursday's statement came as Netanyahu's government has approved 5,500 new Israeli housing units in the West Bank over the past two weeks in the largest expansion since U.S.-led peace negotiations broke down in April 2014. Until now, Israel had every reason to believe it had a green light from the Trump administration.
The unusually large approvals were criticized as a land-grab implicitly backed by the United States. But the announced approvals appeared to come as an unwelcome surprise to the new U.S. administration.
During the campaign and since his election, Trump has been unstinting in his support for Israel in general, and Netanyahu's government in particular, a coalition under continuing pressure from the right to move away from a two-state solutionthat for the past quarter-century has been seen by the world as the only way out of the Israeli-Palestinian conflict.
Trump sharply criticized the Obama administration's abstention in December that allowed passage of a U.N. Security Council resolution condemning settlements. Just before Trump's inauguration, diplomats from 70 countries, including the United States, met in Paris and criticized settlement building as a threat to a two-state solution.
David Halperin, executive director of the Israel Policy Forum, which advocates a two-state solution, said the White House statement serves as a caution to Netanyahu and proponents of building more settlements and annexing the large settlement of Maale Adumim.
"It's a warning sign to the Israeli right that their celebration [of the new administration] may be premature," Halperin said.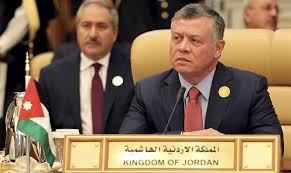 The White House statement came a few hours after Trump met with King Abdullah of Jordan, which borders Israel and is burdened with waves of Syrian refugees. The kingdom is concerned that Trump's stated intention to move the U.S. Embassy to Jerusalem could cause tensions among its own citizens, more than half of whom are of Palestinian origin.
"Jordan can ill afford unrest on its streets," Halperin said. "The king undoubtedly warned President Trump against any provocative moves. If the Trump administration abandons hope for a two-state solution, Jordan fears the unrest will spill over the border."
Halperin predicted Trump will be unable to avoid backing two states as the ultimate goal of peace talks.
"This may be an initial signal the Trump administration realizes that working on the Israeli-Palestinian conflict requires working with Jordan," he said.
WASHINGTON POST