Iraq's PM under pressure by pro-Iranian factions to retaliate against Trump's travel ban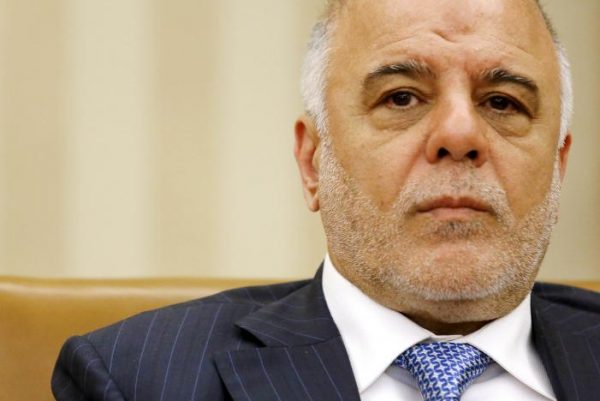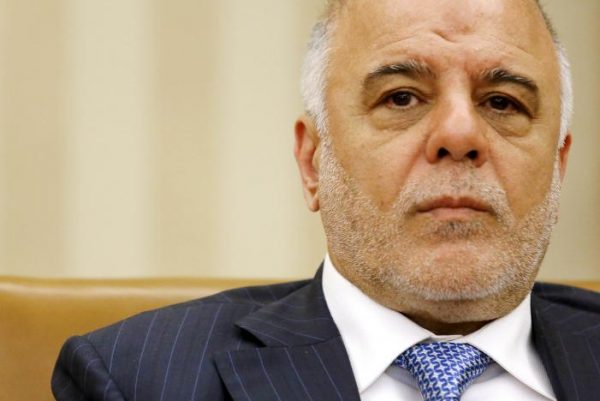 Iraq's prime minister has squashed a move by pro-Iranian factions in his government who wanted to retaliate against President Donald Trump's travel ban. The struggle shows the difficult position the Iraqi leader finds himself in – pulled between his most powerful neighbor and the United States under Trump.
For Haider al-Abadi, the situation had looked difficult on Sunday night. At a meeting of the most powerful Shi'ite leaders and their representatives, he faced calls to respond in kind to the ban affecting seven mainly Muslim nations, including Iraq.
Trump's order had triggered angry reactions among Shi'ite politicians in Iraq. Those who are closest to Iran were insisting that Iraq should retaliate with a ban on U.S. nationals, just like Tehran did the day before.
But matters were resolved smoothly in Abadi's favor. The prime minister warned the Shi'ite leaders that a ban on Americans would jeopardize U.S. support for the war on Islamic State. So they were prepared for the time being at least to reject the demands of the pro-Iranian lobby.
While the Shi'ite leaders agreed that the U.S. order was unfair, it was understood that Iran's allies had no alternative plan on how to finish the battle in Mosul, the last major city under the control of IS militants, without U.S. help.
Abadi said at a news conference on Tuesday that Iraq was best served by preserving the U.S. alliance. "We are … in a battle and we don't want to harm the national interest."
Iran's allies are, nevertheless, preparing to press their cause again should relations deteriorate further between Washington and Iran after the battle of Mosul, said Ahmed Younis, a professor of international relations at the University of Baghdad.
SYMBOLIC VOTE
One prominent Shi'ite member of parliament warned the situation could change if the ban was extended.
"The Americans promised to review the ban in three months," said Hassan Khalati, a lawmaker close to Sayyid Ammar al-Hakim, a prominent Shi'ite cleric and politician who hosted Sunday's meeting. "If it is maintained, there will be (further) pressure" on the government to retaliate, he said.
In a sign of lingering dissatisfaction a show of hands in parliament on Monday signaled that the majority of lawmakers would have preferred a retaliatory travel ban. The show of hands was symbolic because Shi'ite leaders had backed down at the meeting the day earlier.
The new American president has indicated a cooling of relations with Iran, unlike the previous administration of Barack Obama which reached a deal providing for curbs on the Iranian nuclear program in return for easing international sanctions.
Washington on Friday ratcheted up pressure on Iran, putting sanctions on 13 individuals and 12 entities days after the White House put Tehran "on notice" over a ballistic missile test.
Iran's dominant influence in Iraqi politics was eroded after IS routed the Iraqi army commanded then by Prime Minister Nuri al-Maliki, who was a close ally of Tehran. This forced Maliki to seek U.S. help to fight the IS militants.
But the U.S. travel curbs – which bar the admission of people from Iraq, Syria, Iran, Libya, Somalia, Sudan and Yemen –
fueled the arguments of pro-Iranian political factions who seek to bolster Tehran's influence at the expense of Washington.
Iranian officials state their support for Iraq in the war on Islamic State but make no public comments on U.S.-Iraqi affairs to avoid causing embarrassment for Baghdad.
Unlike Maliki, Abadi has kept Iran at arm's length. Iranian Major-General Qassem Soleimani, who oversaw the formation of the Popular Mobilisation units receded from public view mid-2015.
But several policy-makers and analysts said the travel ban was changing the dynamic, in particular by empowering the pro-Iranian factions.
"Why should we trust the new American administration?" asked Iskandar Witwit, a lawmaker from Maliki's bloc, the biggest in parliament. "We have the right to get closer to Iran as a secure ally in order to preserve our national interests."
Trump's travel ban has "definitely muddied the waters" between the two nations, Witwit added.
One veteran Iraqi politician, who declined to be named, also pointed out that Baghdad's relationship with Washington was not a direct reflection of the assistance that has poured into Iraq.
"When you look at the level of military and financial support Iraq gets from Washington you would expect it to be as close an ally of the U.S. as Jordan or Morocco," he said.
"And yet, Iraq appears like a reluctant ally of the U.S.; we rarely hear Iraqi officials praising the Americans when talking to an Iraqi audience," he said.
RESISTING PRESSURE
For now, however, Abadi has pushed back the pro-Iranian factions.
At the meeting on Sunday, Abadi won the argument over those who wanted retaliation with the critical backing of Hakim, who chairs the National Alliance, an umbrella for the main Shi'ite groups.
Hakim was unavailable for comment but one of his aides said the influential leader was convinced of the pressing need to defeat IS with American military might.
In particular, Hakim's critical support allowed Abadi to resist pressure exerted by representatives of the most radical groups within Popular Mobilisation, paramilitary units trained mainly by Iran to fight IS, who wanted Iraq to follow Iran's lead in imposing a retaliatory ban on American travelers.
"Iraq should not become a ground where Iran and the U.S settle scores," said MP Khalati, explaining the opinion of Hakim, the heir of one of a revered clerical dynasty whose members suffered under former dictator Saddam Hussein.
"Iran is supporting Iraq and the U.S. is supporting Iraq, our interest is to get rid of terrorism," he said.
After the meeting, Iraq's Foreign Minister Ibrahim al-Jaafari asked the U.S. ambassador to Iraq to convey a request to reconsider the ban, arguing for the need to cooperate against IS and saying no Iraqi was involved in attacks on U.S. soil.
REUTERS