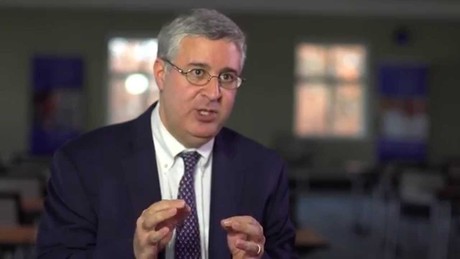 The president of the American University of Beirut slammed President Donald Trump's executive order to indefinitely bar refugees from Syria and keep Muslim individuals from seven Muslim-majority countries from entering the U.S. for 90 days.
Fadlo Khuri, a dual Lebanese-American citizen, said in a statement released Monday that the AUB community has watched the fallout at America's airports with "growing concern" in the last 72 hours.
The university is one of the oldest and most prestigious educational institutions in the Middle East.
Khuri says: "We find this action and its implications to be in conflict with the enduring values of liberty and justice for all, which the original framers of the US constitution fought to protect."
Founded in 1866, AUB enrolls around 8,500 students from all over the world.
Trump signed an executive order Friday that indefinitely suspends admissions for Syrian refugees and limits the flow of other refugees into the United States by instituting what the President has called "extreme vetting" of immigrants.
The order bars all persons from certain terror-prone countries from entering the United States for 90 days and suspends the US Refugee Admissions Program for 120 days until it is reinstated "only for nationals of countries for whom" members of Trump's Cabinet deem can be properly vetted.
The countries impacted are Iran, Iraq, Syria, Sudan, Libya, Yemen and Somalia, according to a White House official.
Trump's order will also cancel the Visa Interview Waiver Program, which once allowed repeat travelers to the United States to be able to forgo an in-person interview to renew their visa. Under the new order, these travelers will now have to have in-person interviews.
AP
This error message is only visible to WordPress admins
Error: No connected account.
Please go to the Instagram Feed settings page to connect an account.