Paris summit draft: 2-state solution best for Israel, Palestinians
In a strong message to Israel and the incoming Trump administration, dozens of countries are expected this weekend to reiterate their opposition to Israeli settlements and call for the establishment of a Palestinian state as "the only way" to ensure peace in the region.
France is hosting more than 70 countries on Sunday at a Mideast peace summit, in what will be a final chance for the Obama administration to lay out its positions for the region.
According to a draft statement obtained by The Associated Press on Friday, the conference will urge Israel and the Palestinians "to officially restate their commitment to the two-state solution."
It also will affirm that the international community "will not recognize" changes to Israel's pre-1967 lines without agreement by both sides.
The draft says that participants will affirm "that a negotiated solution with two states, Israel and Palestine, living side by side in peace and security, is the only way to achieve enduring peace."
Israel has settled some 600,000 of its citizens in the West Bank and east Jerusalem — occupied territories claimed by the Palestinians for a future independent state. Israel captured both areas in the 1967 Mideast war.
The summit comes on the heels of a U.N. Security Council resolution last month that condemned the settlements as illegal. The resolution passed 14-0 after the United States declined to use its traditional veto power and instead abstained.
U.S. Secretary of State John Kerry, who is attending Sunday's summit as one of his last international appearances in official capacity, said in a farewell speech last month that Israel's continued settlement growth threatens the possibility of a two-state solution. He also criticized Palestinian attacks on civilians and incitement to violence.
On Sunday, a Palestinian truck driver rammed his vehicle into a crowd of Israeli soldiers at a popular Jerusalem tourist spot, killing four people and wounding 17 others in the deadliest single attack of more than a year of violence.
Israeli Prime Minister Benjamin Netanyahu has ruled out a return to the 1967 lines, and many members of his nationalist coalition oppose Palestinian independence and support expanded settlements.
Netanyahu has rejected the U.N. resolution and accuses the Obama administration of conspiring behind Israel's back. Israel has refused to participate in the French conference, which Netanyahu on Thursday claimed was "rigged" against his country.
The Palestinians, who also are not invited to this weekend's conference, have welcomed the French initiative. In recent years, they have campaigned for the international community to assume a greater role in resolving the conflict.
Palestinian President Mahmoud Abbas is expected to visit France in the coming weeks to follow up on the conference.
Netanyahu rejects international attempts to "impose" a solution and says peace can only be reached through direction negotiations.
On Thursday, French President Francois Hollande said the conference aims at ensuring the support of the international community for the two-state solution as a reference for future direct negotiations.
"I cannot accept the status quo, letting people think that the conflict would resolve itself. It is not true. That is why France took the initiative of a conference on Middle East," Hollande said. "The objective is to reaffirm the support of the international community to the two-state solution and ensure that this solution remains the reference. But I see that has weakened, on the ground and in the minds (of the people). If we let it decay, it would be a risk for the security of Israel."
French diplomats, speaking on condition of anonymity because they were not authorized to talk to the media about the event, said the timing of the conference — days before U.S. President-elect Donald Trump's inauguration — is intentional and meant to present him with a collective international push for peace once he takes office.
Trump not yet laid out a clear policy for the region, but has signaled he will be more sympathetic to Israel's hard-line right than previous administrations. While indicating an eagerness to broker a peace agreement, his election platform did not mention a Palestinian state.
Trump has appointed David Friedman, a Jewish-American lawyer with close ties to the settlement movement, as his ambassador to Israel. Trump also has vowed to move the embassy from Tel Aviv to Jerusalem, a step the Palestinians strongly oppose.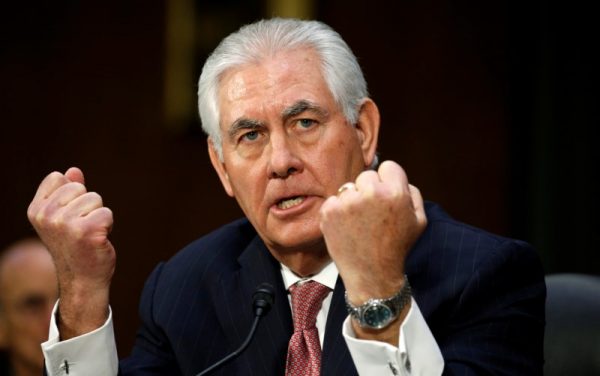 At his confirmation hearing Wednesday, Trump's choice for secretary of state, Rex Tillerson, slammed U.N. action on Israel and the Obama administration's policy. "Israel is, has always been and remains our most important ally in the region," Tillerson told senators. "The U.N. resolution that was passed, in my view, is not helpful. It actually undermines a good set of conditions for talks to continue." Attempts to coerce Israel would backfire, and "will not lead to a solution," he said.
Things will be different under a Trump administration, said Tillerson. "The president-elect has already made it clear that we're going to meet our obligations to Israel as the most important ally in the region."
Israel reportedly fears that the United States and France want to advance another move on the Israeli-Palestinian issue before the Obama administration wraps up its term, Israeli media reported last December.
A senior official in Jerusalem said that during a security cabinet meeting, ministers were presented with an assessment that during the international foreign ministers' meeting scheduled for January 15 in Paris as part of the French peace initiative, a series of decisions on the peace process will be made. These will immediately be brought to the UN Security Council for a vote and will be adopted there before January 20.
According to Israeli information , U.S. Secretary of State John Kerry wants to utilize the foreign ministers' parley, to deliver an address that presents his vision for the two-state solution. The senior official said that Israel fears this address will include American principles for resolving the core issues of borders, refugees, security arrangements and Jerusalem.
"The Foreign Ministry and the National Security Council spoke about information to the effect that what is planned is that the foreign ministers' meeting in Paris will make a summary decision that will be adopted by the Quartet [on the Middle East] and by the UN Security Council before January 20," the senior official said. "Israel believes this is an operative plan and the assumption is that the Americans are leading it all, together with the French."
Associated Press /YL