"US must take on Putin", Trump's Defense nominee Mattis declares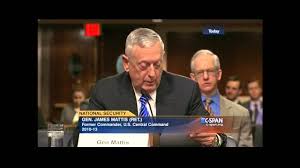 President-elect Donald Trump's selection to be defense secretary took his turn before the Senate on Thursday, coming out of the gate with strong language against Russian President Vladimir Putin and facing questions about his views of women and gays in the military.
Ret. Gen. James Mattis faces an extra challenge beyond other nominees. Not only must he convince senators to confirm him — installing Mattis will also need Congress to pass a waiver of a law requiring anyone who served to be out of the military for at least seven years before taking the post of defense secretary.
At the top of the hearing, Mattis took a hard stance against Russia and its President Vladimir Putin in answering a question from strong anti-Russia hawk, Senate Armed Services Committee Chairman John McCain.
The topic has been one of the greatest sources of Republican criticism of President-elect Donald Trump, who has repeatedly spoken favorably about Putin and for months denied Russia's role in a hacking and misinformation campaign designed to influence the election.
"I've watched three presidents commit themselves to new relationships with Vladimir Putin, all three have been an abysmal failure," McCain said, asking Mattis what he would do.
"I think right now the most important thing is that we recognize the reality of what we deal with Mr. Putin," Mattis said. "We recognize that he is trying to break the North Atlantic alliance, and that we take the steps, the integrated steps, diplomatic, economic, military and the alliance steps, working with our allies to defend ourselves where we must."
He identified Russian aggression, terrorism and Chinese aggressiveness in the South China Sea as the biggest security issues since WWII.
"I think deterrence is critical right now, sir, absolutely and that requires a strong military," Mattis said, adding the US military is not robust enough right now.
He answered similar questions about Moscow from the top Democrat on the committee, Sen. Jack Reed.
"I'm all for engagement, but we also have to recognize reality and what Russia is up to," Mattis said. "There's a decreasing number of areas where we can engage cooperatively and an increasing number of areas where we're going to have to confront Russia."
Questions on women, gays in combat
Later, Mattis was peppered with questions about women in the military from several lawmakers.
Sen. Kirsten Gillibrand, a New York Democrat who has been outspoken on the issue of women in the military and military sexual assault, engaged in a lengthy back-and-forth with Mattis about his position on women and gays in combat — asking him if he would roll back gains on that front.
Mattis repeatedly dodged direct questions about whether he opposes women serving in combat positions or gays in the military, despite Gillibrand reading back his past comments to him.
"I've never come into any job with an agenda, a pre-formed agenda of changing anything. I come in assuming the people before me deserve respect for the job they did and the decisions they made," Mattis said.
His answers also left wiggle room that he could roll back both women in all combat positions and gays serving in the military.
"If someone brings me a problem, I'll look at it. But I'm not looking for problems," Mattis said. "My belief is we have to stay focused on a military so lethal that on a battlefield it will be an enemy's longest day and worst day when they run into that force. … My concern is with the readiness of the force."
Mattis did not answer Gillibrand's question about whether he believes the policies undermine the readiness of the force.
"Frankly, senator, I've never cared much about two consenting adults and who they go to bed with," he said.
Hawaii Democrat Sen. Mazie Hirono picked up on Gillibrand's thread, asking Mattis if there is "anything innate" in women and gays that would undercut their ability to be part of a lethal force, and Mattis simply answered, "No."
Mattis also told Missouri Democrat Sen. Claire McCaskill that as long as readiness standards are met, he will not object.
"The standards are the standards and when people meet the standards, that's the end of discussion on that," Mattis said. "The reason we're able to maintain an all-volunteer force with very, very high recruiting standards is because we go to males and females. … Where they can best serve, that's where they go."
Mattis facing favorable winds
Mattis is expected to have the votes to be confirmed, as Republicans have a majority in the Senate.
In their opening statements, the top committee Republican and Democrat were both generally favorable to Mattis.
"Current law would bar him from serving as secretary of defense for three more years. While I strongly support retaining the law, I also believe that our nation needs General Mattis' service more than ever," said McCain.
Reed trained his concerns mainly on Trump, criticizing Putin and praising past statements from Mattis saying the Iran nuclear deal should remain in place unless violated.
"You will help oversee national security policy for a president who lacks foreign policy and defense experience, and who's temperament is far different from prior presidents," Reed said. "I think many Americans, and many in this body, on both sides of the aisle, are rightly concerned about how he may respond when he is tested by Russia, Iran, North Korea, and other transnational threats such as cyber."
Senators have already questioned other nominees on the issue of waterboarding and torture, which Trump has spoken in favor of. Mattis is on the record against using waterboarding in the military, a difference Trump noted when he introduced him as his choice for defense secretary.
The retired four-star general is a bachelor who spent most of his adult life in the Marines. He served in the first Gulf War and Afghanistan, in addition to his positions atop NATO and US Central Command, which is in charge of the US military in the Middle East.
While his friends don't call him "Mad Dog," he has earned the nickname in part because of some of his frank comments on the violence that combat sometimes requires.
"Be polite, be professional, but have a plan to kill everybody you meet," he would tell his Marines in Iraq, according to the writer Thomas Ricks in his book "Fiasco." He also drew criticism for saying in 2005, "It's fun to shoot some people."
Of the nickname, which was brought up by New Mexico Democratic Sen. Martin Heinrich, Mattis said it was misnomer.
"Senator, first I assure you that that nickname was given to me by the press, and some of you may have experienced similar occasions with the press where perhaps they didn't get it quite right," Mattis said.
CNN