Mystery as NATO Auditor General is found shot dead in suspicious circumstances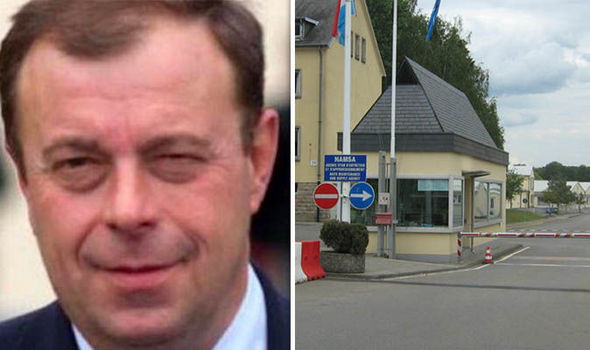 POLICE in Belgium are probing the death of a high ranking NATO official after his body was discovered in his car with a gunshot wound to the head.
According to reports, Yves Chandelon, the 62-year-old auditor general of NATO was found miles away from both his home and office.
His body was found in the Belgian town of Andenne, 62 miles away from his home in Lens on December 16.
According to local newspaper reports Mr Chandelon was the registered keeper of three weapons however the gun found at the scene did not belong to him, it has been claimed.
And more bizarrely it has been reported locally that the gun which killed him was found in the glovebox of the vehicle.
Local news reports say Mr Chandelon's family are concerned about the circumstances of the case.
They say initial suggestions that it was a possible suicide are incorrect.
And it has been reported that the former director of The Institute of Internal Auditors (IIA) Luxembourg had complained of getting strange telephone calls before he died and "felt threatened".
Belgian newspaper group SudInfo.be  reported Mr Chandelon's family has a number of unanswered questions surrounding the strange death.
The newspaper claims local prosecutor Vincent Macq is probing the death but that a post mortem is yet to be carried out.
Part of that investigation is the fact that Mr Chandelon was responsible for probing terror financing as part of his high ranking job.
Mr Chandelon was employed by the NATO support and procurement agency (NSPA) in Capellen in south-western Luxembourg, 7 miles west of Luxembourg City.
The local newspaper Luxemburger Wort reported Mr Chandelon had gone to Belgium to visit a friend.
They said police are currently probing whether he had received any threats that could be related to his work and highlighted that the gun used was not registered in his name.
As Auditor General, Mr Chandelon was responsible for internal accounting at NSPA as well as external investigations into money laundering activities and terrorist financing.
According to Flemish newspaper The Morning Mr Chandelon's relatives said he attended his office Christmas party the night before he died.
3 officials dead in one week
Russian Ambassador to Turkey Andrey Karlov was assassinated last week in Ankara, while giving a speech to a small group gathered in an art gallery — though the killer was shot dead by police shortly afterward, questions still surround the incident.
Mevlut Mert Altintas, the man who killed Karlov, had been a Turkish police officer, until a recent purge by President Recep Tayyip Erdoğan of those sympathetic to political opposition believed by him to be behind a coup attempt this year.
An additional suspicious death happened in the same week, "Petr Polshikov, 56, was found with a single bullet hole to his head after a report that "an unknown assailant fired at least two rounds at the senior civil servant," Russian media reported. Polshikov — who had been chief advisor/diplomat to the Latin America department at the Russian ministry — was found in his Moscow home, however, and only hours after the assassination of Karlov.
The circumstances of the death of the 3 officials are strange, to say the least.
At this stage it is not known if these events are all coincidence but if this turns out to be tit-for-tat retaliatory actions on the geopolitical chessboard – expect more to come with an escalation that could turn seriously dangerous, as if it wasn't that already!
EXPRESS.UK/Agencies