I Oppose Trump's Nomination For Ambassador To Israel And I Am Not a 'Kapo'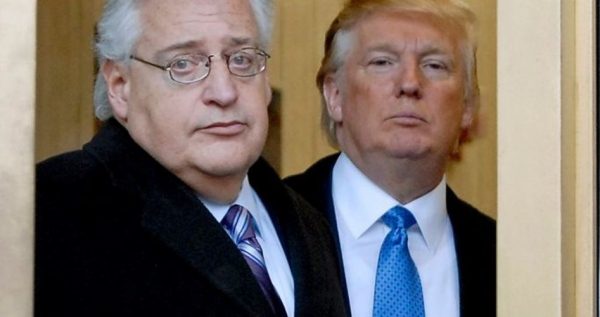 Alan Singer
I write as an American Jew who opposes Donald Trump's nomination of David Friedman as Ambassador to Israel and the Israeli occupation of the West Bank and East Jerusalem — and I am not a "Kapo."
Friedman, co-chair of Trump's Israel advisory committee, a supporter of Israel's far-right political fringe and the illegal occupation and annexation of Palestinian lands, brands Jews who support a peaceful resolution of the Israeli-Palestinian conflict with a two-state solution as "worse than Kapos." Charging someone with being a "Kapo" is one of the deepest insults one Jew can use to target another.
Kapos were prisoners, sometimes Jews, who aided Nazi guards in policing World War II concentration camps and tried to save their own lives at the expense of other helpless people. After World War II, the State of Israel passed an Israeli Nazi and Nazi Collaborators (Punishment) Law. Under this law, trials were held between 1951 and 1964 for people accused of being prison camp Kapos.
Freidman was a strong Trump supporter in the presidential campaign. At a pro-Trump rally in Jerusalem, Friedman suggested, without any evidence, that Hillary Clinton's aide Huma Abedin had ties to Islamic fundamentalists because she is a Muslim.
According to a report in the New York Times, Friedman rejects the formation of an independent Palestinian state, believes it would be legal for Israel to annex the occupied West Bank seized in 1967, supports building new Israeli settlements there and wants to move the U.S. embassy in Israel from Tel Aviv to Jerusalem. The U.S. and much of the world currently condemn these actions as illegitimate and an obstacle to long-term peace in the Middle East.
J Street, a progressive Jewish group that supports a two-state solution for the Israelis and the Palestinians, announced it is "vehemently opposed to the nomination." According to a release, "As someone who has been a leading American friend of the settlement movement, who lacks any diplomatic or policy credentials, Friedman should be beyond the pale."
The United Nations General Assembly and Security Council have repeatedly condemned Israeli actions against Palestine as having "no legal validity" and for constituting a "serious obstruction to achieving a comprehensive, just and lasting peace in the Middle East." The U.S., which at least under President Obama opposes new Israeli settlements on the West Bank, has still vetoed U.N. resolutions condemning Israeli expansion on Palestinian lands.
Amnesty International charges Israel with a series of human rights abuses in conjunction with the occupation. These include killing of Palestinian civilians, detaining thousands of Palestinians who oppose the occupation, holding hundreds of people in administrative detention, the torture and ill-treatment of prisoners, tolerating illegal settlements in the West Bank and severely restricting Palestinian freedom of movement. According to an Amnesty International report, "Israeli settlers in the West Bank attacked Palestinians and their property with virtual impunity. The Gaza Strip remained under an Israeli military blockade that imposed collective punishment on its inhabitants. The authorities continued to demolish Palestinian homes in the West Bank and inside Israel, particularly in Bedouin villages in the Negev/Naqab region, forcibly evicting their residents."
My father, who died two years ago at the age of 94, was a strong supporter of Israel and visited a number of times. He was very disturbed when we discussed the occupation because he believed "Jews would not do these things." When I confronted him with reports about the occupation, his response was: "Those people cannot be Jews."
Mr. Friedman, I am a Jew who believes in human rights and opposes the Israeli occupation of the West Bank and East Jerusalem. I am not a Kapo.
Alan Singer Social studies educator, Hofstra University, "my opinions, of course, are my own"
Huffington Post