Black boxes of Brazilian team plane crash found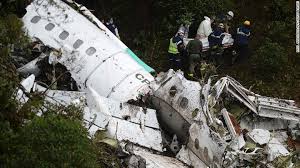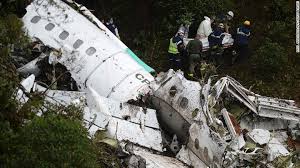 Emergency workers have found the black boxes with flight data and cockpit voice recordings from a plane that crashed in the Colombian mountains with a Brazilian football team on board, officials said Tuesday.
Luis Perez Gutierrez, the governor for Antioquia department in northwestern Colombia, where the charter flight went down, announced the two black boxes had been located. Aviation officials later confirmed the find.
Officials did not immediately say how long it would take to analyse their contents.
The LAMIA aircraft was flying from Brazil via Bolivia to Medellin when it crashed in an area called Cerro Gordo about 50 kilometres from the city, Colombia's second largest.
"Search and rescue operations found 71 victims and six survivors," Colombia's disaster management agency, UNGRD, said in a statement late Tuesday.
The civil aviation authority had earlier given a death toll of 75, but it later emerged that four people on the passenger manifest had not in fact boarded the plane.
The plane was transporting the Chapecoense football team from southern Brazil, which was scheduled to play the Copa Sudamericana finals against Atletico Nacional on Wednesday.
Brazil's President Michel Temer has declared three days of mourning for the victims of the crash.
'A tragedy of huge proportions'
Poor weather conditions initially made the crash site accessible only by road, Medellin airport authorities said on Twitter.
The airport later said rescue operations had been suspended because of heavy rain in the area.
"It's a tragedy of huge proportions," Medellin Mayor Federico Gutierrez told Blu Radio on his way to the site in a mountainous area where the chartered aircraft crashed shortly before midnight local time.
Journalists were urged to stay away from the zone, which has been hit by heavy rains, and stay off the roads to facilitate the entry of ambulances and rescuers.
It is not clear what caused the crash of the aircraft, a British Aerospace 146 short-haul plane, but Colombia had been hit by heavy rains and thunderstorms in recent hours.
Aviation officials said the plane declared an emergency at 10pm local time due to an electrical failure. Other sources suggested the plane may have run out of fuel.
Local radio said the same aircraft transported Argentina's national squad for a match earlier this month in Brazil, and previously had transported Venezuela's national team.
A police commander, Jose Gerardo Acevedo, initially said only five people survived the crash, but Colombian authorities later said a sixth person was found alive, raising hopes there might be other survivors.
"The rescue of a sixth survivor, player Helio Hermito Zampier Neto, who is in the process of being evacuated, is confirmed. The possibility that other people will be found alive has not been ruled out," Colombia's disaster risk management agency said.
One of the survivors was Alan Ruschel, a 27-year-old defender for the Brazilian team, the head of Colombia's civil aeronautics agency, Alfredo Bocanegra, told reporters.
Two other players – Marcos Danilo Padilla and Jackson Follmann – also survived and were taken to hospitals, along with a flight attendant and a journalist.
In a statement on its Facebook page, Chapecoense said, "May God accompany our athletes, officials, journalists and other guests travelling with our delegation."
The team said it would refrain from any further statements until it had fully evaluated the extent of the crash.
A video published earlier on the Facebook page showed the team readying for the flight on Monday in Sao Paulo's Guarulhos international airport.
The team, from the small city of Chapeco, joined Brazil's first division in 2014 for the first time since the 1970s and made it to the Copa Sudamericana finals last week by defeating Argentina's legendary San Lorenzo squad.
Speaking to Brazilian TV station Globo Sport TV, Chapecoense club vice-president Ivan Tozzo said, "The pain is terrible. Just as we had made it, I will not say to the top, but to have national prominence, a tragedy like this happens. It is very difficult, a very great tragedy."
(FRANCE 24 with AP, AFP and REUTERS)