Anti-Trump Demonstrators Take to the Streets in Several U.S. Cities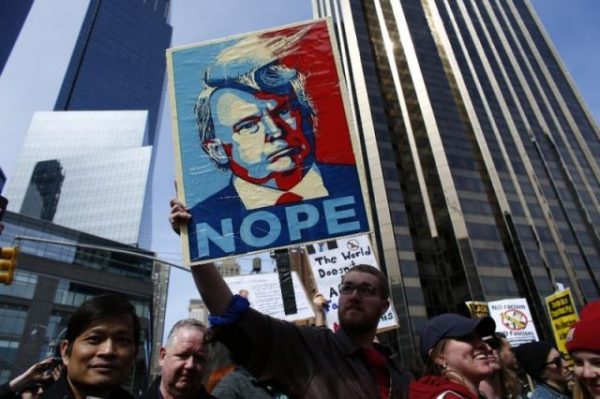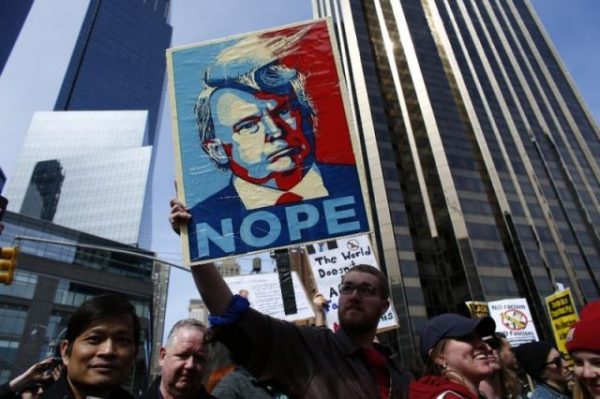 Chanting "Not my president," several hundred protesters streamed through the streets of Berkeley and Oakland in the predawn hours of Wednesday venting their anger at the election of Donald J. Trump as president. Demonstrations were also reported in Pittsburgh, Seattle and Portland, Ore.
The California Highway Patrol said that one protester, who was not identified, sustained major injuries after being hit by a car when protesters attempted to move onto a freeway.
The demonstration was one of the first visible signs of anger in the liberal and heavily Democratic San Francisco Bay Area after Mr. Trump's surprising victory.
From Pennsylvania to California, Oregon and Washington State, hundreds of people hit the streets, according to reports by local news media and The Associated Press. In Oregon, dozens of people blocked traffic in downtown Portland and forced a delay for trains on two light rail lines. The crowd grew to about 300 people, according to local reports, including some who sat in the middle of the road to block traffic. The crowd of anti-Trump protesters burned American flags and chanted "That's not my president."
In Seattle, a group of about 100 protesters gathered in the Capitol Hill neighborhood, blocked roads and set a trash bin on fire.
In Pennsylvania, hundreds of University of Pittsburgh students marched through the streets, with some in the crowd calling for unity. The student-run campus newspaper, The Pitt News, posted on Twitter about an event later Wednesday titled "Emergency Meeting: Let's Unite to Stop President Trump."
"We can't just sit back and let a racist and sexist become president," said Adam Braver, a 22-year-old political science student at the University of California, Berkeley, who marched with other protesters past empty fast-food restaurants in the early hours.
"He makes us look bad to the rest of the world," Mr. Braver said, as the demonstrators reached the outskirts of Oakland. The few cars on the road honked in apparent support of their efforts. "This is the beginning of a movement."
Marchers said the protest had begun spontaneously among students who had gathered on the Berkeley campus to watch the results.
When it became clear that Mr. Trump would win, students filled a wide avenue and began marching toward neighboring Oakland.
Daniel Colin, a graduate student in epidemiology and a naturalized American citizen from Guatemala, said the election marked the first time he had voted in the United States. "Now that I'm finally expressing my vote, this happens," Mr. Colin said of Mr. Trump's election. "It's very sad."
Mr. Colin and a number of other Latino students on the march said they were concerned about what would happen to their friends and relatives during a Trump presidency because of his stance on migrants from Latin America.
Daniel Austin, an African-American first-year student at the California College of the Arts in Oakland, said he felt threatened by Mr. Trump.
"I feel like a part of my identity was stolen away from me. Not as a bisexual. Not as a black," Mr. Austin said. "As an American."
Oakland officers attempted to block the marchers before they reached the police's headquarters. One demonstrator flashed a handmade sign to the police blocking their path that read, "Trump is a fascist pig."
The protesters dispersed after 3 a.m., but many vowed to return to the streets in the coming days.
NY TIMS