US defence chief Carter in surprise Iraq visit to assess Mosul battle
US Defense Secretary Ash Carter arrived in Iraq Saturday for an update on the battle to retake the northern city of Mosul from the Islamic State (IS) group and to discuss a possible role for Turkish troops with Iraqi and Kurdish leaders.
Carter is expected to meet with the President of the Iraqi Kurdistan Region Masoud Barzani, as well as military commanders spearheading the battle to retake Iraq's critical second city of Mosul from the IS group.
The US Defense Secretary spent Saturday in Baghdad receiving progress reports military chiefs on the ground and meeting Iraqi Prime Minister Haider al-Abadi.
Carter said Saturday that the US is prepared to provide additional support if requested by Iraqi and US commanders, and that the battle is proceeding according to plan.
New front in fight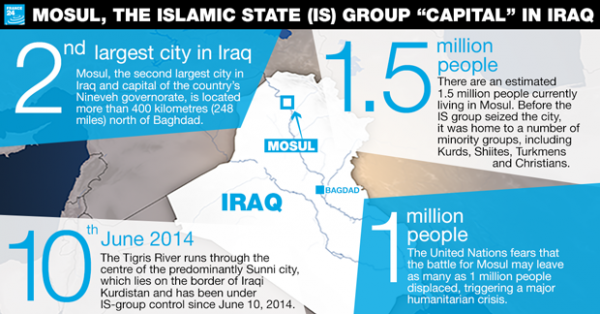 Carter's visit coincides with a push by Iraqi Kurdish forces on two new fronts to the northeast of Mosul near the town of Bashiqa. Over the past week, the military force known as peshmerga have been advancing in long columns of armoured vehicles, while facing roadside bombs, snipers and suicide truck bombs. More than 100 US special operations forces are embedded with the Kurds and Iraqi military commandos.
However, Mosul is a Sunni majority town, and many worry about the involvement of government-sanctioned Shiite fighters and Kurds. The Kurds have ambitions to expand their self-rule area into parts of Ninevah province, where Mosul is located – although not to the city itself.
Acknowledging these concerns, US military officials say the Peshmerga will stop their military advance about 20 miles (30 kilometres) outside of Mosul. The Shiite militias have also said they will not enter the city itself.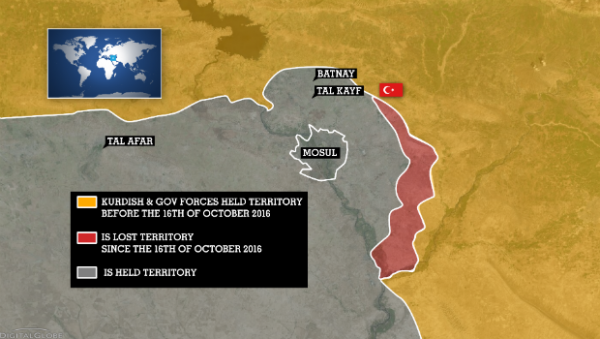 Iraq declines Turkey support
Carter met with Turkish leaders in Ankara on Friday and suggested that Turkey should play a role in the battle for Mosul, which has infuriated the Iraqis.
The Iraqi PM said, "I know that the Turks want to participate, we tell them thank you, this is something the Iraqis will handle and the Iraqis will liberate Mosul and the rest of the territories."
Turkey's role currently amounts to some 500 Turkish troops at a base north of Mosul training Sunni and Kurdish fighters since last December. Just the presence of the Turkish troops has angered Iraq, which says it never gave them permission to enter the country and has called on them to withdraw. Turkey has so far refused.
Lightening advance
The IS group captured Mosul and the surrounding area during a lightning advance across northern Iraq in the summer of 2014.
The Mosul offensive involves more than 25,000 Iraqi ground forces as well as US-led coalition aircraft and advisers. It is expected to take weeks, if not months, to drive IS militants from Mosul, which is home to more than a million civilians.
France24/AFP