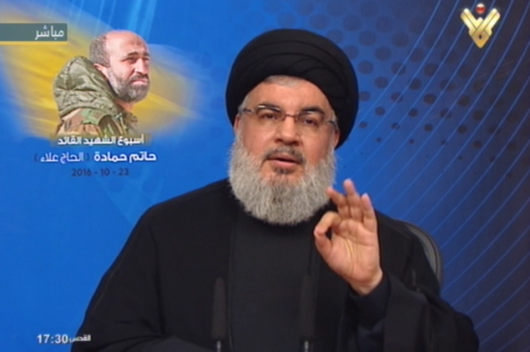 The leader of the Iranian backed Hezbollah militant group says his parliamentary bloc will vote for former army commander Michel Aoun for president at the next balloting session in parliament.
Sunday's announcement brings Aoun one step closer to the presidency after his political rival, former Prime Minister Saad Hariri, announced his party's support for his candidacy earlier this week.
Hezbollah chief Hassan Nasrallah said in a televised speech that his bloc would end its elections boycott that has run for more than two years to vote for Aoun at the next session on Oct. 31.
Lebanon has been without a president since May 2014.
Aoun appears to have the support of the majority of the 128-member parliament.
Hariri
Nasrallah also confirmed Sunday that his party is not opposed to the nomination of Hariri as premier, describing the stance as a "very big sacrifice."
"Nothing is for free. There were discussions for more than a month. They ( Future Movement officials ) asked about the premiership should they accept to vote for Aoun as president," said Nasrallah in his televised speech marking a week since the death in Syria of Hezbollah commander Hatem Hamade .
"They received an answer from General Aoun and from (Free Patriotic Movement chief) Jebran Bassil and yet they insisted on asking us and hearing from us and we told them that we do not mind," Nasrallah added.
"This a huge decision at all the political and psychological levels. Some parties are saying that they are offering sacrifices and I would also like to announce that we are offering a very big sacrifice when we say that we are not opposed to the appointment of former PM Hariri as premier," Nasrallah went on to say.
He described Hariri's official endorsement of Aoun's nomination as an "important development" that "largely paves the way for holding the presidential election in a realistic manner."
Bilateral form of power-sharing
Commenting on recent media reports, Nasrallah added: "I stress that none of the allies and rivals is thinking of chaos and civil war and what was attributed to AMAL Movement's leadership in this regard is baseless and has been categorically denied."
As for AMAL's concerns regarding the FPM-Future Movement agreements that preceded Hariri's endorsement of Aoun, Nasrallah emphasized that "no one in Lebanon is thinking of establishing a bilateral form of power-sharing on a political, sectarian or two-party level."
"Everyone in Lebanon realizes that Lebanon cannot be run by any bilateral agreement, no matter what any two parties might represent, but some indications have stirred concerns and we must all address these points of concern," he said.
Berri's position
In response to calls that Hezbollah should press its allies to endorse Aoun's nomination, Nasrallah said: "We do not order or pressure our allies and they do what they are convinced of."
"After Hariri's declaration, we started exerting efforts with our allies and we will continue that and we're looking forward to a calm and reasonable election," he said.
And lamenting that "some parties are trying to stir discord between us and the FPM, between us and AMAL, and between us and Marada Movement," Nasrallah underlined that the Hezbollah-AMAL relation is "deeper, stronger and firmer than being affected by all these bad fabrications that some have resorted to."
"We sit together with Speaker (Nabih) Berri and we discuss the things that we disagree on. We understand Speaker Berri's stances and he understands our stances. We will vote for Aoun in the presidential election session and AMAL might vote for someone else. This is not an assignment n of roles but is rather called 'allies who respect each other'," Nasrallah added.
"Our electoral choices will not affect our good ties," he stressed.
"Our commitment to General Michel Aoun's nomination is final. The Loyalty to Resistance bloc will attend the session and all the members will vote for General Aoun," Nasrallah emphasized.
Berri Berri, who has openly declared that he opposes the election of Aoun, has pledged that his bloc will take part in the October 31 electoral session and that he will not try to strip the meeting of its quorum.

Syria /Aleppo battle
Addressing the situation in Syria Nasrallah reiterated that the Aleppo battle is "decisive for the entire region because it will have military, strategic and political repercussions."
"No one ordered us to go to Syria and we went there after a comprehensive and extensive analysis," he said contradicting what he said in 2013 when he decided to join the Syrian civil war ( see video clip)
"The battle in which the martyr Alaa (Hatem Hamade) was martyred is still ongoing and we will maintain our presence in it," Nasrallah added.
Hezbollah's chief also stressed that his party's fighters will not "return to Lebanon" before "achieving victory in Syria."
Boycott
The Lebanese parliament failed again on September 28th and for the 45th time in a row to elect a president to replace Michel Suleiman whose term ended on May 25 , 2014.
As in the past sessions the parliament was unable to reach a quorum because Hezbollah and its ally Aoun's Change and Reform bloc MPs boycotted the session, because they could not reportedly guarantee Aoun's election as a president.
Amal Movement leader, Speaker Berri a key ally of Hezbollah postponed the election to October 31st.
Aoun and Marada Movement leader MP Suleiman Franjieh are the 2 main candidates for president and both are key members of the Hezbollah-led March 8 alliance. Franjieh may drop his bid after Hariri gave up on him and endorsed Aoun