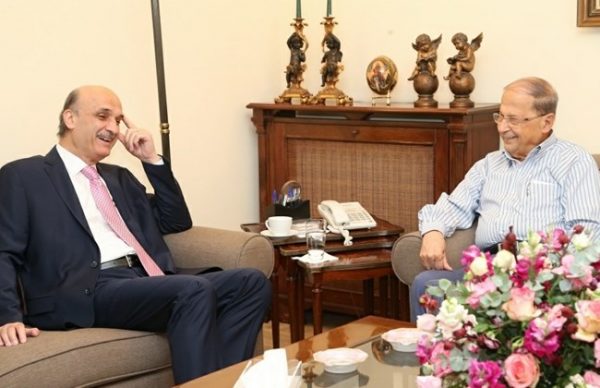 Lebanese Forces leader Samir Geagea urged Friday all parliamentary blocs to  support the election of Free patriotic Movement founder   MP Michel Aoun's presidential bid
"We will have a president made through a Lebanese [decision] and we will have a real Lebanese entity," Geagea said from Aoun's residence in Rabieh.
Geagea expressed  optimism that the presidential impasse , now in its third year, will come to an end soon.
"The next step after the election of Aoun is supposed to be the formation of a Cabinet by [former Prime Minister Saad] Hariri," Geagea told reporters.
Hariri Thursday announced his formal endorsement of  Aoun's candidacy in a move that faces significant opposition but could help resolve a political crisis if it wins support from all the main factions.
Backing Aoun, a foe of his own Future Movement, is a gamble for Hariri, Lebanon's leading Sunni politician, but one that could ease the deadlock in Beirut.
"This decision comes from the need to protect Lebanon and the state and the people … but it is a decision that depends on agreement," he said in a speech, describing Aoun as "the only option left".
Aoun's candidacy is opposed by the parliament speaker Nabih Berri, leader of the Shiite Amal movement, which is also an ally of Hezbollah, by some of Hariri's own supporters, and by others.
Four prominent members of Hariri's Future Movement bloc in parliament, including former prime minister Fouad Siniora, told reporters they would not vote for Aoun. Telecom Minister Boutros Harb, an ally of Hariri's from a different party, said the same.
Still, the endorsement by Hariri, who has long opposed Aoun's Shiite ally Hezbollah represents an important attempt to break the prolonged standoff between Lebanon's political leaders.
Lebanon has endured a protracted political crisis since parliament failed to elect a new president more than two years ago, paralyzing government, causing a breakdown in many basic services and raising fears of future unrest.
Hezbollah, Lebanon's most powerful political player, released a  statement  welcoming moves to fill the presidency but without committing to any wider power sharing agreement.
Under Lebanon's power-sharing arrangement among its main sects, the presidency is reserved for a Maronite Christian, the premiership for a Sunni Muslim and the speaker of parliament for a Shiite.
Hariri's latest move will make it easier to elect a president. What is clear, however, is that Hezbollah appears to have lost the  initiative  in deciding the country's next president, with Hariri and Geagea standing behind Aoun.
The Geagea-Aoun-Hariri alliance must be seen as a worrying development for Hezbollah and the March 8 movement, according to analysts, since it shifts the  balance  of power that had prevailed, following the assassination of Hariri's father former PM  Rafik Hariri in 2005.
Geagea visits Hariri
Geagea visited Hariri at his residence in downtown Beirut and praised his courage in endorsing Aoun's bid. He told reporters that he is extremely pleased that the relations with the Future Movement is as strong as it has ever been . In response to a question about the future of March 14 and March 8 alliances he said :" I know March 14 is still around but Iam not sure about March 8 "