Franjieh:" Let the best candidate win", urges Aoun to attend presidential voting session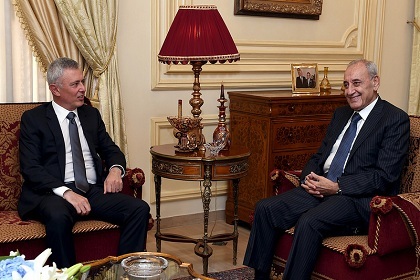 Marada Movement leader MP Suleiman Franjieh stressed Tuesday  after talks with Speaker Nabih Berri in Ain el-Tineh that he remains a very serious candidate and  will carry on with his presidential nomination, calling on his electoral rival – Free Patriotic Movement founder MP Michel Aoun – to attend the next voting session.
"We call on General Aoun and any person who wants to be a candidate to attend the next electoral session and let the best candidate win," Franjieh stressed
"We thanked the speaker for his support for my nomination," said Franjieh
"I believe that the stronger candidate must not withdraw in favor of the weaker candidate and let the parliament decide," he added.
He also stressed that he will not withdraw from the race "even if only one MP" continues to support him.
Franjieh's talks with Berri tackled "the current developments and the presidential file,"  National News Agency reported earlier.
Franjieh was accompanied by his son Tony and his  lawyer Youssef Finianos.
The meeting was also attended by Berri's advisers Ali Hassan Khalil and Ahmed Baalbaki.
The speaker later hosted a lunch  in honor of the visitors.
The Lebanese parliament failed again on September 28th and for the 45th time in a row to elect a president to replace Michel Suleiman whose term ended on May 25 , 2014.
Amal Movement leader, Speaker Berri a key ally of Hezbollah postponed the election to October 31st.
Aoun and  Frangieh are the 2 main candidates for president and both are key members of the Hezbollah-led March 8 alliance.
Aoun is backed by Hezbollah and the Lebanese Forces, while Frangieh is mainly supported by the Future Movement, the Amal Movement and the Progressive Socialist Party.
Both Hezbollah and the LF have reportedly attempted to convince Future Movement leader Sa'ad Hariri   to relinquish support for Frangieh and instead endorse Aoun, which they say is the only way to end the presidential vacancy.
Since his arrival to Beirut , Hariri has kicked off a series of consultations with top leaders in a bid to end the presidential vacuum, but has not declared any change in his choice for candidate so far. There is a lot of speculation that he has decided to endorse Aoun, but is facing a lot of objection from his Future Movement MPs .