Hezbollah slams Israel for building roads in Lebanon's occupied areas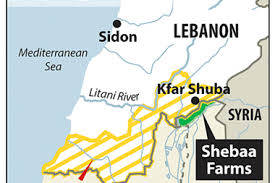 Hezbollah condemned Israel for the construction of  roads in  areas near the occupied Shebaa Farms, urging the Lebanese state to defend the country.
"The dangerous Zionist violation of Lebanese sovereignty and the sanctity of the land in the occupied Shebaa Farms… is a crime that will be added to the enemy's long history of crimes against Lebanon," the party said in a brief statement issued Thursday.
"It reveals the unrestrained Zionist ambitions regarding Lebanon's land and resources," it added.
The road is almost 2 kilometers long and is being built between the Blue Line, the internationally recognized border between the two countries, and Israel's so-called "technical fence," erected south of the divide.
Hezbollah  called on the state to "conduct its normal role in defending Lebanon's sovereignty and take the necessary measures to confront the rejected Israeli steps."
Israeli forces Tuesday halted work  after a bulldozer collided with a military vehicle, retrieving the bulldozer and causing casualties.
Israeli forces used a tank Wednesday to tow the damaged bulldozer from the site of the crash.
Work on the roads  had been ongoing for three days before the accident.
Israel violates Lebanon's sovereignty on an almost daily basis, as aircraft and navy boats regularly encroach on Lebanon's borders and conduct surveillance operations of the Army and Hezbollah.
The occupied Shebaa Farms are disputed territory between Lebanon and Syria, which Israel refused to relinquish during its May 2000 withdrawal from southern Lebanon.
Syria acknowledged verbally  that Shebaa belongs to Lebanon but refused to put it in writing and provide the proper documentation top the UN  to back Lebanon's claim .
Syria also refuses to demarcate its border with Lebanon