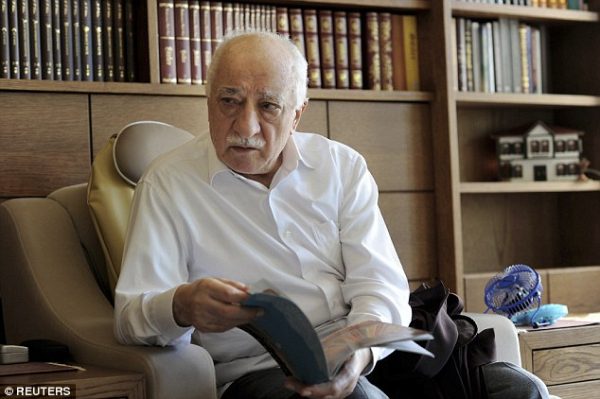 ANKARA, Turkey — Prosecutors in western Turkey have demanded a life sentence for U.S.-based Muslim cleric Fethullah Gulen, whom Turkey accuses of masterminding the failed coup in the country, the state-run news agency reported Tuesday.
Concluding a yearlong investigation into his movement's financial dealings, prosecutors in the city of Usak demanded that Gulen be punished with two life sentences plus 1,900 years in prison, the Anadolu Agency reported.
In the more than 2,500-page indictment accepted by the court in Usak on Tuesday, Gulen and 111 other suspects are accused of transferring funds obtained through charities or donations to the United States via "front" companies, Anadolu said. It said the indictment also makes reference to Gulen's alleged role in the July 15 coup.
Gulen, a former Erdogan ally who lives in self-imposed exile in Pennsylvania, is already on trial in absentia in Turkish courts, facing life terms over accusations of plotting to overthrow the government and leading an armed group. He has also been indicted on a charge of leading a terror organization and faces another trial in absentia in November.
On Tuesday, police in Istanbul launched simultaneous raids on 44 companies suspected of providing financial support to Gulen's movement while authorities issued warrants to detain 120 company executives, Anadolu reported. The private Dogan news agency said the companies searched included a supermarket chain.
President Recep Tayyip Erdogan has refused to rule out bringing back the death penalty in order to punish the coup plotters — a move that would further jeopardize Turkey's faltering European Union membership bid. But on Tuesday, Prime Minister Binali Yildirim appeared to move away from reinstating capital punishment.
"Anyone who spilled the blood of our martyrs will be held to account. But, my valuable citizens, we won't act in the spirit of vengeance," Yildirim said during his weekly address to his ruling party's legislators. "Death penalty is death for one time. But there are worse ways of dying. This is through an objective and fair trial."
On Tuesday, Turkish Foreign Minister Mevlut Cavusoglu held a telephone conversation with U.S. Secretary of State John Kerry to discuss an upcoming visit by Vice President Joe Biden, as well as Turkey's demand that Gulen be extradited, the Turkish Foreign Ministry said. The two also discussed recent developments in Syria.
Meanwhile, Turkey made a formal request to Greece for the extradition of eight Turkish officers who fled to the neighboring country after last month's attempted coup, the state-run news agency reported.
A Justice Ministry file had been delivered to Greece requesting the officers' return over charges that include breaching the Constitution through the use of force, plotting to kill the president and crimes against the parliament and government, Anadolu reported.
The six pilots and two engineers fled to Greece aboard a military helicopter after the July 15 attempt. Turkey wants them returned to stand trial on charges of participating in the violent attempt by renegade officers within the Turkish military that resulted in at least 270 deaths. Parliament was bombed, while Erdogan escaped an attack on his hotel at a seaside resort.
The eight deny involvement in the coup and have applied for asylum, saying they fear for their safety amid widespread purges in the aftermath of the attempted overthrow of the government.
The government says the coup was the work of followers of Gulen's religious movement, who allegedly have infiltrated the military over the years. The government declared a state of emergency and launched a massive crackdown on Gulen's supporters in the aftermath of the coup, raising concerns among European nations and human rights organizations who have urged restraint.
Some 35,000 people have been detained for questioning and more than 17,000 of them have been formally arrested to face trial, including soldiers, police, judges and journalists. Tens of thousands more people with suspected links to Gulen have been suspended or dismissed from their jobs in the judiciary, media, education, health care, military and local government.
Gulen has denied any prior knowledge or involvement in the coup.
Associated Press