How off-the-shelf drones are changing war in Syria and Lebanon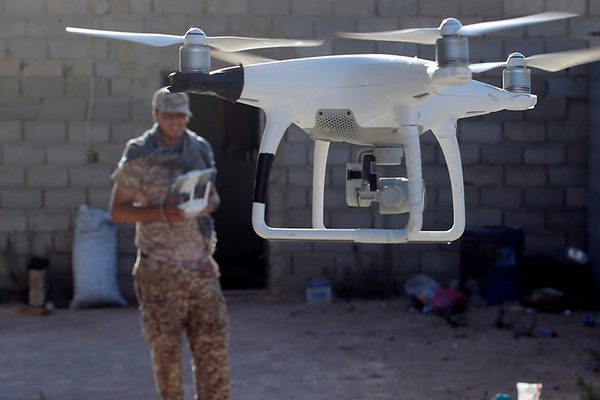 BEIRUT, LEBANON — Sales of mini pilotless drones have soared in recent years as the technology has become cheaper and readily available to the public. But recent video footage – purportedly showing a mini-drone operated by Lebanon's Hezbollah group dropping munitions on Syrian rebels in northern Syria – demonstrates the relative ease with which commercially bought drones can be weaponized by militants.
The relatively small signature and fast speed of many mini-drones and the capability of some to carry light payloads pose a fresh security challenge as the extremist, self-declared Islamic State (IS) and its adherents in the West look for new ways to carry out attacks.
"Unmanned systems were once science fiction. Then they were only in the hands of advanced state militaries. Now anyone can get one, whether a non-state group like ISIS, Hezbollah, Greenpeace, or just you and I," says Peter Singer, senior fellow at the New American Foundation and an expert on the future of war.
The targets in the video are said to be positions manned by Jaysh al-Fateh, a rebel coalition, in the village of Khalsah in the southern Aleppo province.
Two of the three separate clips show small explosions beside a building and on a car. The third clip is more revealing as two Chinese-made cluster bomblets are seen falling, presumably from the drone, toward a building. A man is visible running from the building moments before the two cluster munitions explode.
Although the mini-drone is not shown in the film, the "swarm of bees" sound it makes suggests that it could be the DJI Phantom quadcopter. Hezbollah – as well as IS – has been known to use the off-the-shelf drone for over-the-hill reconnaissance in Syria's battlefields.
Hezbollah's drones
Al Masdar news, a pro-Syrian regime website, said it "gives a glimpse into Hezbollah's military capabilities and technological developments."
In fact, Hezbollah has been operating Unmanned Aerial Vehicles (UAVs) since 2004, when it sent an Iranian Ababil-T into Israeli airspace on a brief reconnaissance mission before returning to Lebanon undetected. In the month-long war between Hezbollah and Israel in 2006, Hezbollah dispatched three UAVs toward Israel, at least one of them carrying explosives. All three UAVs were shot down by the Israeli Air Force. In October 2012, Hezbollah flew an advanced Iranian UAV to southern Israel, a distance of several hundred miles, where it was eventually detected and shot down.
In April last year, the UK-based Jane's Defence Weekly reported that Hezbollah appeared to have built a 2,000-ft.-long air strip in a remote area of Lebanon's northern Bekaa Valley that had the configuration of a UAV launch site. Although Hezbollah denied the claim at the time, the strip has since been asphalted. But it is unclear if it is in operational use.
Compared to its broader UAV capabilities, Hezbollah's ability to rig a commercial mini-drone to drop a pair of hand grenade-sized cluster bomblets is of little consequence. But it does highlight the relative ease with which militants can turn a mini-drone into a weapon.
"While the video is not a good demonstration of Hezbollah's drone capabilities … it is further evidence of the risk posed by terrorist and other nonstate groups – such as insurgents, criminals, corporations, and activists – using and adapting drones for attacks and intelligence-gathering," says Chris Abbott, executive director of the consultancy Open Briefing and lead author of the report Hostile Drones published in January 2016.
There have been numerous security scares in the past three years involving mini-drones. In September 2011, the FBI arrested a man who was allegedly planning to fly explosive-laden drones into the US Capitol and the Pentagon and detonate them with a cellphone. In September 2013, German activists protesting government surveillance flew a mini-drone to within a few feet of German Chancellor Angela Merkel at a rally. In April 2015, a mini-drone carrying radioactive sand landed on the desk of the Japanese prime minister.
The dangers posed
There is no shortage of techniques that can be used to weaponize a mini-drone. They can be fitted with an automatic pistol fired by remote control, adapted to disperse radioactive material over a crowd, or used for swarming attacks – multiple drones carrying explosive charges sent into a crowded arena such as a football stadium.
"Of primary concern is the weaponization of off-the-shelf drones with small explosive or CRBN [chemical, biological, radiological, nuclear] payloads or firearms, or simply a drone itself being used as a projectile and flown into an aircraft engine on landing, for example," says Mr. Abbott.
The threat of weaponized drones has led to a surge in technologies designed to defeat them. They include "geo-fencing," where a drone is programmed by the manufacturer not to fly within a certain radius of a sensitive location, such as an airport. When a DJI Phantom quadcopter accidentally crashed inside the grounds of the White House last year, the company issued a mandatory firmware update that prevented that model from flying within 15.5 miles of the building.
Other techniques include jamming radio signals, installing screens of netting around potential targets, shooting them down or using directed energy technology such as lasers, and high-power microwave systems to burn up the drones in the air.
Underlining the importance the US government is assigning to the potential threat, the Defense Advanced Research Projects Agency (DARPA) last week issued a request for new technologies that "could be leveraged to improve force protection against a variety of sUAS [small Unmanned Aerial Systems] threats and tactics…."
"All sorts of investments are being made in how to defend against this threat … but a lot like IEDs, their small size and cheapness makes it a challenge," says Mr. Singer.
While there has been no significant attack using mini-drones, many analysts believe it is only a question of time.
"It is no longer a matter of if civilian drones will be used in a terrorist attack, but when," says Abbott.
CSM