Iran claims that it does not interfere in Lebanon internal affairs, renews offer to supply arms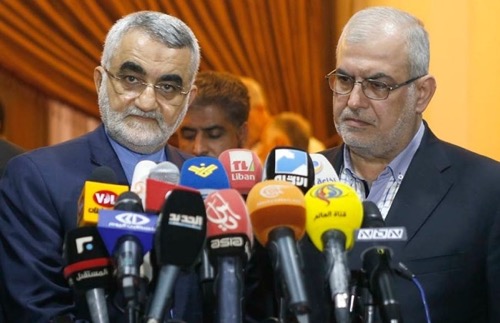 A high-ranking Iranian official claimed on Monday that Iran does not interfere in Lebanese internal affairs and renewed the offer to support the Lebanese Army with arms.
"We in Iran, through our desire to bolster all that strengthens Lebanese sovereignty, are always willing to support the Lebanese Army with arms and equipment that will enable it to defend Lebanon's security and stability," Alaeddin Boroujerdi, the Chairman of the Iranian Parliament's National Security and Foreign Policy Committee, said  during a joint press conference  with Hezbollah parliamentary bloc leader MP Mohammad Raad, following a meeting with Foreign Minister Gebran Bassil at the ministry.
"Official negotiations were conducted between Lebanese and Iranian sides," he responded when asked about Iran's willingness to provide military assistance to the Lebanese Army.
Boroujerdi also touched on the country's ongoing presidential crisis, stressing that Iran doesn't interfere in other countries internal issues and that the election of a president is a Lebanese matter.
"The fixed and continuous policy of the Islamic Republic of Iran is based on the principle of non-interference in the internal affairs of other countries, including Lebanon," he said. "On the other hand, given the friendly relationship that connects us to Lebanon, if there were political efforts that could help resolve this political vacuum and if this effort was asked of us, we would not hesitate to do it."
Boroujerdi affirmed that "Iran gives special and unique attention to security and calm in Lebanon."
He praised the "historic and unique role of the resistance under the leadership of [Hezbollah's] Secretary-General Hassan Nasrallah, which provided security and stability not only in Lebanon … but also the region."
Boroujerdi also hailed Speaker Nabih Berri's national dialogue initiative, saying that "it leads to fortifying the national unity and locating a solution to the political crises."
On his part Hezbollah MP Mohammad Raad praised Iran's interest in Lebanon as well as its interest in supporting its stability. He revealed  that their  discussions highlighted matters of common regional interest.
This is not the first time Iran offers to arm to the Lebanese army.
The first time Iran made such offers was in 2010. But the negotiations that followed the offers were reportedly fruitless. Several Lebanese officials were involved in the negotiations including the Defense Minister . Many officials were suspicious about Iran's intentions since it is the main supplier of arms and ammunition to Hezbollah.
The Lebanese parliament failed again earlier last month and and for the 42nd time in a row to elect a president to replace Michel Suleiman whose term ended on May 25 , 2014.
As in the past sessions the parliament was unable to reach a quorum because the Iranian-backed Hezbollah militant group and its ally MP Michel Aoun's Change and Reform bloc MPs boycotted the session, because they could not reportedly guarantee Aoun's election as a president.
Amal Movement leader, Speaker Nabih Berri a key ally of Hezbollah postponed the election to August 8, 2016.
Last week a key Hezbollah official suggested that Aoun could become the next president provided former PM Saad Hariri severs all ties with Saudi Arabia.
Hezbollah and Iran , according to analysts do not want a president for Lebanon at this stage despite the fact that they have the votes to guarantee Aoun's election.
Iran's influence in Lebanon is at odds with all with the countries supporting opposing political camps.
Rival leaders are scheduled to meet in three sessions on Aug. 2-4, in an attempt to reach a deal over key issues, including the election of a president, new electoral law, and the shape of a new government.