Theresa May, UK's next Conservative leader by default?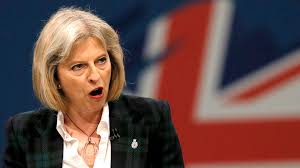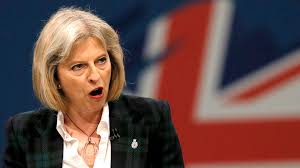 Conservative Party stalwart Theresa May managed to avoid the in-fighting that dominated the EU referendum campaign, making the heavy-weight interior minister a strong contender to replace David Cameron at 10 Downing Street.
Despite being a long-standing eurosceptic and hardliner on immigration, May declared herself officially in favour of Britain staying in the European Union – but kept a low profile during the divisive referendum campaign.
The 59-year-old trod a fine line between remaining loyal to Cameron and the "Remain" campaign, while handling with sensitivity Torygrassroot members who wanted to quit the EU and prioritise the issue of immigration.
"Following last week's referendum, our country needs strong leadership to steer us through this period of economic and political uncertainty," May said in launching her bid Thursday.
"We need a bold, new positive vision for the future of our country," she added, while stressing there was no going back on the vote to leave the European Union. "Brexit means Brexit," she underscored.
Bookmakers forecast that May's appeasement tactics could see her replace Cameron following his resignation in the wake of last week's seismic EU referendum result.
Standing in her way is hard right justice minister and key 'Leave' campaigner Michael Gove after high-profile Brexit champion Boris Johnson, the former mayor of London, made a shock announcement Thursday saying he would not seek to replace Cameron.
According to The Sunday Times, many of the party's MPs and ministers think only May can unite warring party factions.
But, the broadly pro-Conservative Daily Telegraph suggested Thursday, "not even Mrs May's loyal allies suggest she ignites the fires of passion."
Hopes of a more friendly leadership campaign have already taken a hit after media reports that Tory bigwigs were trying to convince MPs to vote for May.
Nasty party'
May's stern demeanour has drawn comparisons to Margaret Thatcher, though Britain's tabloid media have long obsessed over her fashion-forward footwear choices – not least since she wore leopard-print kitten heels at the Tory party conference in 2002.
Others have likened her to former prime minister John Major, who carefully positioned himself as a safe pair of hands to succeed Thatcher while remaining loyal to the "Iron Lady".
The state-school educated (which is particularly unusual in the Conservative Party, which is dominated by old Etonians) daughter of a Church of England vicar, May started her career at the Bank of England before becoming a local councilor in 1986.
She entered parliament in 1997 and became the Conservative Party's first chairwoman in 2002, breaking a long male tradition and gaining a reputation as a reformer for saying that Conservatives needed to shed their reputation as the "nasty party".
May held various shadow cabinet positions while in opposition, and was promoted to home secretary following Cameron's 2010 election victory, a role she kept after his re-election in 2015.
She has won praise within the party for her handling of the portfolio over the past six years – the longest period of any politician for a century in a job which is often described as the cabinet's poisoned chalice.
The home secretary scored one of her biggest successes in 2013 with the deportation of radical Islamist preacher Abu Qatada, which had eluded her predecessors for over a decade.
However, she has also come under criticism for her department's failure to meet a promise made by Cameron to bring net migration below 100,000 a year, with current levels more than three times that.
May says she will "strive to make Britain a country that works for everyone – regardless of who they are and regardless of where they're from."
She has been married to banker Philip May since 1980, and the couple have no children. May lists her hobbies as walking and cooking.
(FRANCE 24 with AFP)