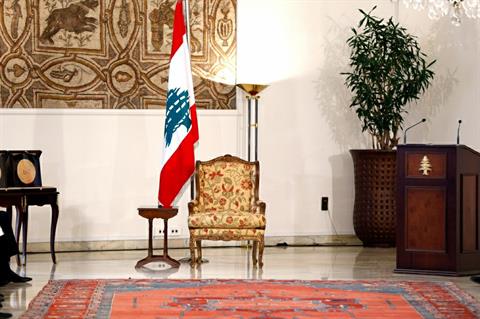 The Lebanese parliament failed again today and for the 41st  time in a row to elect a president to replace Michel Suleiman whose term ended on May 25 , 2014.
As in the past sessions the parliament was unable to reach a quorum because the Iranian-backed Hezbollah militant group and its ally MP Michel Aoun's Change and Reform bloc MPs boycotted the session, because they could not reportedly guarantee Aoun's election as a president
Speaker and Amal Movement leader Nabih Berri a key ally of Hezbollah postponed the election to July 13th.
The Lebanese Forces called for electing  Aoun as president or passing a new electoral law for the parliamentary polls as a way out of the country's political crisis.
"All parties agree that the financial and economic risks are increasing as time passes and that we can longer wait," LF deputy chief MP George Adwan said after a meeting in parliament with Future Movement  bloc chief MP Fouad Siniora and MP Ali Bazzi of Berri's bloc.
"As Lebanese, we must find the solutions ourselves," Adwan added.
"To reach a solution, we must either launch a dialogue betweenFuture Movement  and General Michel Aoun or seriously mull Speaker Nabih Berri's initiative on the speedy approval of a new electoral law before the election of a new president," he suggested.
MP Ahmed Fatfat meanwhile categorically rejected calls for forging a so-called Doha Accord-like settlement, stressing that the solution lies in the parliament's election of a new president.
Phalange Party chief MP Sami Gemayel for his part warned that "Lebanon has become an undemocratic country."
Future Movement  leader and former PM  Saad Hariri launched  an initiative in late 2015 to nominate Marada Movement chief MP Suleiman Franjieh for the presidency but his proposal was met with objections  from the country's main Christian parties as well as Hezbollah.
Hariri's move was followed by LF chief Samir Geagea's endorsement of his long-time Christian foe Aoun for the presidency after a rapprochement deal was reached between their two parties.