Lebanese restaurant chain Comptoir Libanais lists on Aim in London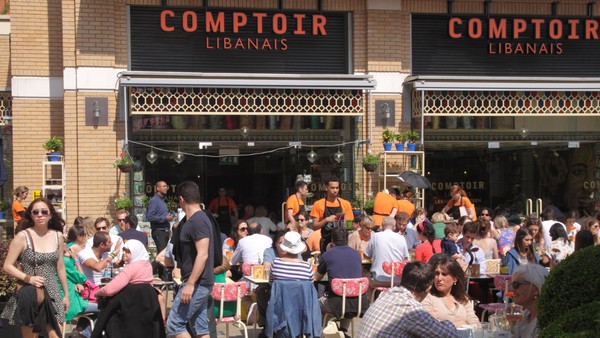 Shares in Comptoir Group, the Middle Eastern restaurant chain, started trading on Tuesday, raising £8m( about $12 million) through its flotation on London's (AIM ) Alternative Investment Market.
The group operates 11 casual-dining restaurants under the Comptoir Libanais brand, primarily in London, and generates franchise revenue from operations across the UK.
Following the announcement of its intention to list on the small-cap stock exchange earlier this month, some £16m of proceeds were raised — half of which the company said will be used to expand the Comptoir Libanais franchise. The remainder was offered to shareholders. A total of 96m ordinary shares in the business were issued, giving a market capitalisation of £48m, at 50p per share.
"Today marked an important milestone," said Chaka Hanna, chief executive. "Our listing provides us with the platform to accelerate the growth of the business, allowing us to bring our fresh, healthy Lebanese dining experience to many more people across the UK."
In addition to its main chain, the Comptoir Group owns two smaller Lebanese and Eastern Mediterranean outlets under the Shawa brand, plus two high-end stand alone restaurants Kenza and Levant in central London. Recipe books, traditional crockery and Arabian condiments will soon be available on their branded online Souk, inspired by Middle Eastern marketplaces.
Last year the company opened the first Comptoir Libanais outside Greater London in the northern city of Manchester. Exeter will become the latest UK city to welcome the canteen-style chain this year, opening its doors at the £12m revamped food court inside the Guildhall Shopping Centre.
Customers can also order dishes from home via the food delivery service Deliveroo. Earlier this month Comptoir Libanais was part of a group of more than 150 restaurant chains in London that signed up to Uber's new rival food delivery service, UberEATS. The San Francisco-based ride-hailing app that is known for disrupting the taxi industry has already launched its meals on wheels in 18 cities in the US, Canada, France, Australia and Singapore.
Comptoir, founded in 2008 by Algerian-born chef Tony Kitous, will be in good foodie company on the small-cap Aim exchange. Recent floats include the upmarket confectioner Hotel Chocolat. Confidence in Aim has improved; entrants are raising six times more money than they did a decade ago and the average size of new companies is £76m against £17m in 2006.
FINANCIAL TIMES