Geagea likens the Blom bank blast to the bombings against March 14 leaders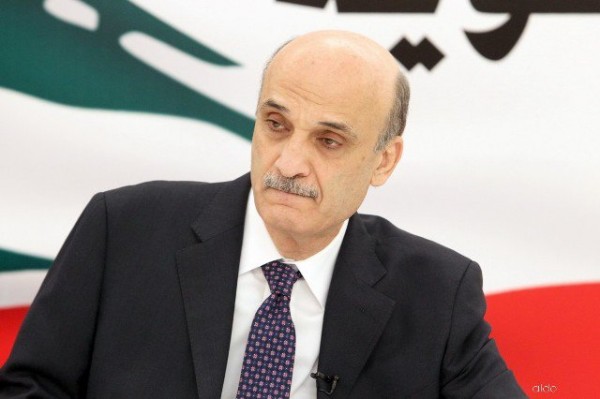 Lebanese Forces leader Samir Geagea on Sunday urged authorities to speed up the investigation into the bombing that targeted the headquarters of Blom Bank in Beirut last week, noting that if the identity of the culprits remains under wraps it would be an indication that the attack was carried out by the same parties that killed the March 14's leaders.
"We are still awaiting the outcome of the investigations into the blast that targeted Blom Bank and we must remind all concerned that the perpetrators of all the previous bombings that were staged by takfiri groups have been identified," said Geagea in a statement.
"Should the identity of those behind the Blom blast be kept under wraps, it will be an indication that it is similar to the bombings that targeted March 14's leaders in the past ten years and this would be very dangerous development ," Geagea warned.
"The government would then be obliged to address the issue and take the appropriate measures," Geagea added.
The March 14 forces have blamed the Syrian regime and Hezbollah for most of the assassinations and attempted murders that targeted March 14 leaders  between 2005 and 2013.
Several parties were quick to point the finger at Hezbollah over Blom Bank's blast due to the fact that the attack took place after a row between the party and the banking sector over the implementation of new anti-Hezbollah U.S. sanctions.
On Wednesday Justice Minister Ashram Rifi likened the Blom  bank blast to the assassination of Hariri
"There are many similarities between the Blom bank bombing and the bombing that assassinated Rafik Hariri   " , Rifi said adding  "every criminal has special fingerprints  and unfortunately we see the same fingerprints here too." He criticized those who are trying defend Hezbollah's role i the bombing,
The Special Tribunal for Lebanon probing the 2005 murder of former Premier  Hariri  has been trying in absentia 5  Hezbollah members   who are accused of being behind  Hariri's  assassination .
Mustafa Amine Badreddine , Hezbollah's   top commander in Syria  until he   was killed  last May in Syria was one of the top suspects in Hariri's murder.
The explosion last Sunday caused substantial damages to the headquarters of Blom Bank, one of the country's largest.
Hezbollah has not commented on the blast and its secretary general  Hassan Nasrallah is expected to address the issue in a June 24 speech.
Hezbollah  refused to cooperate in the investigations of the bombings that resulted in the killing of the March 14 leaders and refused to hand  over the suspects in the Hariri assassination