Rifi extends his hand to Hariri, urges him to return to March 14 values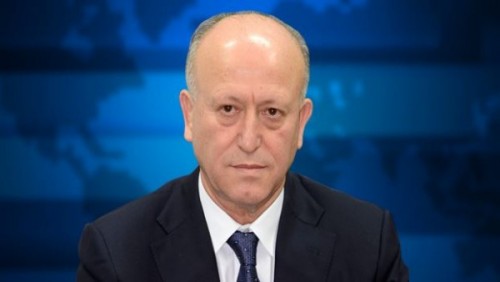 Resigned Justice Minister Ashram Rifi who soundly defeated former Lebanese PM and Future Movement leader Saad Hariri and all the key leaders of the northern capital in the Municipal elections that took place yesterday in Tripoli extended his hands on Monday to his formal ally.
"My hand is extended to all sides" . Wifi said reiterating his commitment to the values of the March 14 coalition.
During a press conference Rifi said: "We voiced our rejection of the control of one political party of Tripoli and the control of the Syrian regime allies of the city's municipality."
The Municipal election list backed by Rifi waged an electoral battle in Tripoli against a list backed by the top traditional politicians of the north Hariri, former Premier Najib Mikati, former ministers Faisal Karami and Mohammed al-Safadi.
"Change is coming. They wanted a Tripoli that would serve their interests and they sought a hybrid alliance that undermines the city," continued Rifi in wake of his victory.
"We rejected their goals and Tripoli made its voice heard. Tripoli will adhere to its dignity and will remain loyal to its vows. The will of Tripoli will remain among its sons."
"I did not seek to achieve personal gain, but that the municipal list I was backing would be responsible enough to cater to Tripoli. It will remain a city of coexistence and we will preserve this heritage."
"We present this victory to slain former Prime Minister Rafik Hariri and the martyrs of the Cedar Revolution. We vow to continue along their path until we reach justice. We gift this victory to all those who seek sovereignty and we urge them to return to the values of March 14, 2005," Rifi added.
"My hand is extended to all the citizens who seek the rise of the state and others should cease taking decisions that contradict the path that leads to independence," he demanded.
On whether he would extend his hand to Hezbollah, he replied: "I had initially joined the cabinet along with Hezbollah members."
"It has however formed an illegal statelet and it has imposed a status quo in Lebanon, which we reject."
"We will not allow Lebanon to be transformed into an Iranian province. I am ready to hold talks with Hezbollah to resolve issues peacefully."
In addition, Rifi remarked that he extends his hand to MP Saad Hariri, adding that the rift with him emerged when he nominated Marada Movement chief MP Suleiman Franjieh as president.
Earlier Rifi told Voice of Lebanon radio (100.5): "I have no problem holding direct or indirect talks with the Future Movement."
"I urge Hariri to return to the principles of his father Rafik Hariri," he added.
The rift with the MP with Hariri's openness to figures loyal to the Syrian regime and Rifi's refusal to "subject the cabinet to Hezbollah's will."
The minister resigned earlier this year in protest against "the power Hezbollah wields over the cabinet". Hariri refused to back his resignation.
"I was never a member of the Future Movement, but I followed the Hariri mentality," Rifi told VDL on Monday in reference to Rafik Hariri.
Asked if the municipal polls will reflect on the presidential ones, he replied: "Tripoli had long stated that it opposes Franjieh's nomination."
"I will not go back on my resignation until a new president is elected."
Rifi's resignation led the case of former Minister of Information Michel Samaha to be retried in the Military Court of Cassation that rendered a more acceptable, verdict.
In April Rifi who served as the general director of the Lebanese Internal Security Forces from 2005 to 2013 was quoted as saying in an interview with MTV:
"Sa'ad Hariri committed a critical error of judgement when he designated Sulaiman Franjieh as a potential head-of-state," he affirmed, because Franjieh was Minister of the Interior when Rafik Hariri was assassinated and probably knew what occurred.