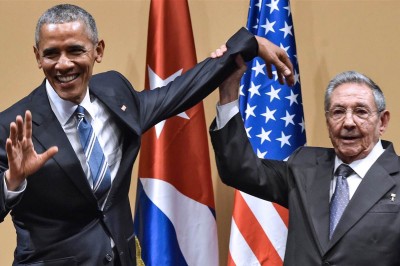 Retired Cuban leader Fidel Castro slammed President Barack Obama's recent visit to the Caribbean island, warning his countrymen to beware of Washington's sweet talk as both nations embark on a long and uncertain path toward improved relations.
In a long column published Monday in Granma, the newspaper of the Cuban communist party, the elder Mr. Castro decried Mr. Obama's call to set aside the countries' decades of animosity and look to a common future as neighbors.
"One assumes that each of us runs the risk of a heart attack hearing these words from a U.S. president," Mr. Castro wrote, outlining a long list of grievances including the failed U.S.-backed 1961 Bay of Pigs invasion. "We don't need the empire to gift us anything," he added, touting his economically crippled country's independence from foreign powers.
Mr. Obama last week became the first U.S. head of state to visit Cuba in 88 years as part of a broader detente between the former Cold War enemies, a move U.S. officials hope will help spark social and economic reform in the communist country. In a speech during the visit, Mr. Obama called for change to meet the aspirations of Cuba's youth.
During the three-day trip, Mr. Obama pointedly didn't meet with the ailing 89-year-old former president, who rarely appears in public. But Mr. Castro's occasional columns in state media, called "Fidel's Reflections," offer insight into his thoughts on the changes sweeping Cuba under his brother, Raúl Castro.
'My modest suggestion is that he reflects and doesn't try to develop theories about Cuban politics.'

—Fidel Castro on Barack Obama
Since officially taking over the presidency in 2008, Raúl Castro has flirted with subtle economic liberalization—allowing average Cubans to open businesses, own property and go on the Internet—moves that would have been unimaginable under the elder Mr. Castro, who cultivated his political career around his personal enmity with the neighbor across the Florida Straits.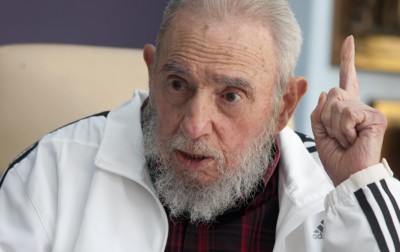 Analysts said Mr. Castro's commentary offers a glimpse into the conservative elements within Cuba's communist party that have been resistant to both economic changes as well as rapprochement with the U.S. After Mr. Obama's speech ran on Cuban state TV last week, pundits were given airtime to critique the U.S.'s reconciliation offer.
But at the same time, Mr. Castro's views are seen as out of touch with the desires of most Cubans who are seeking change. Clad in a tracksuit and sitting in a wheelchair, a frail-looking Mr. Castro was last seen publicly in a March 19 photo with Venezuela President Nicolás Maduro, who has taken up the mantel as Washington's loudest critic in the region and visited Cuba just ahead of Mr. Obama's trip.
"He's essentially an old man ranting in the background," Sebastian A. Arcos, associate director of the Cuban Research Institute at Florida International University, said of Mr. Castro's column. "It's rambling, it's incoherent. It's definitely not on topic," he added.
The 1,500-word letter titled "Brother Obama" is laced with anecdotes from five decades of rocky bilateral relations that Mr. Castro suggests ought to make islanders skeptical of Washington's olive branch. Mr. Castro recounted how his ragtag revolutionary forces in the 1950s fought against troops using American weaponry and how the U.S. tried to overthrow his government just years after its 1959 takeover.
Mr. Castro took exception to some specific lines from Mr. Obama's address. He slammed Mr. Obama for omitting the role of indigenous populations when the U.S. leader lauded the contribution of African slaves to the development of both countries. Mr. Castro also criticized Mr. Obama for failing to recognize the revolutionary government's policies to eradicate racism. In Africa, Mr. Castro said, Cuba aided liberation movements in countries like Angola and Mozambique while the U.S. backed the apartheid government of South Africa.
"I don't know what Obama has to say about this history," Mr. Castro says before offering a "modest suggestion" to the U.S. president: "reflect and don't try now to elaborate theories about Cuban politics."
Mr. Castro's critical tone in Monday's letter is likely to bolster Raúl Castro's reputation as the pragmatic reformer taking Cuba onto a new path. "The brothers have crafted different roles for the international community: Fidel is the bad cop and Raul is the good cop," said Mr. Arcos.
Mr. Obama's speech has been distributed extensively on the island, according to dissident blogger Yoani Sanchez, who said that Cubans could find high-resolution videos of the address on memory drives that residents use to pass around information and skirt the government's rigid Internet censorship.
Ms. Sanchez pointed to Mr. Castro's insistence that Cuba didn't need U.S. aid. Cash-strapped Cuba spends nearly $2 billion a year importing 80% of the food that its 11 million residents consume, she said in an online post.
Asked about Mr. Castro's comments on Monday, White House press secretary Josh Earnest said the "fact that the former president felt so compelled to respond…is an indication of the significant impact of [President Obama's] visit."
AP