Syrian FM slams the Arab League over branding Hezbollah a terrorist group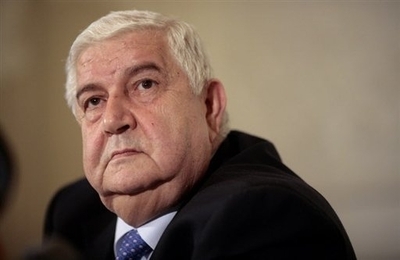 Syrian Foreign Minister Walid Muallem slammed  on Saturday the Arab League's branding of Hezbollah as a terrorist group  and described the decision as "shameful" and "absurd."
"The latest decision taken by the Arab League on Hezbollah is absurd," said Muallem at a news conference he held in Damascus.
"I support what the Iraqi foreign minister said about Hezbollah," Muallem told reporters, adding "it is shameful what was said about the party."
The Arab League on Friday formally branded Hezbollah a terrorist organization, a move that raises concerns of deepening divisions among Arab countries and ramps up the pressure on the Shiite group, which is fighting on the side of Syrian President Bashar Assad.
Iraq and lebanon expressed  reservations about the decision  and Iraqi FM later attacked the decision and defended Hezbollah.   His speech  hailing Hezbollah and Shiite militias as "resistant movements  prompted  the Saudi delegation to storm  out of the  league meeting .
The move aligns the 22-member league firmly behind Saudi Arabia and the Saudi-led bloc of six Gulf Arab nations, which made the same formal branding against Hezbollah last week.
In November 2011 the Arab League suspended Syria membership , a decision that that widely supported by the International community
With AP