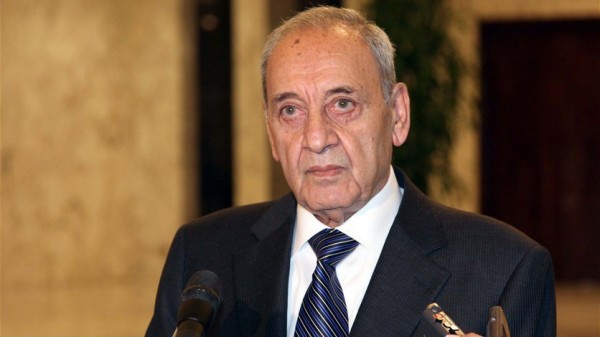 Speaker Nabih Berri  sounded very optimistic when he said on Friday that the stalled presidential elections are ready to be held, An Nahar daily reported.
He also  assured the Lebanese  that Saudi Arabia will not abandon Lebanon, An Nahar added
"The presidential fruit is mature and ripe for picking after all the delay," he told the daily.
He expressed fear that the Lebanese would miss this opportunity, he said: "I fear that the fruit would fall before the Lebanese are able to seize the opportunity and taste its antidote that they have long waited for," added the Speaker.
Addressing  the deteriorating Saudi-Lebanese relations, Berri assured  the  Lebanese that he will spare  no effort  in order to keep the best relationship between the two countries.
Berri said: "I am sure that Saudi Arabia will not abandon Lebanon."
Relations between Lebanon and the Kingdom deteriorated   in February when Riyadh suspended  a  $4  billion  grant to the army and security force  in protest against Hezbollah's  criticism of the kingdom and Foreign Minister Gebran Bassil's abstention from voting in favor of Arab League resolutions condemning attacks against the Saudi embassy and consulate by the mobs in  in Iran in January.
The kingdom further escalated  the measures when it issued a travel advisory urging  its citizens against traveling to Lebanon.
The Lebanese parliament failed again on March 2nd and for the 36th time in a row to elect a president to replace Michel Suleiman whose term ended on May 25 , 2014.
As in the past sessions the parliament was unable to reach a quorum because the Iranian-backed Hezbollah militant group and its ally MP Michel Aoun's Change and Reform bloc MPs boycotted the session, because they could not guarantee Aoun's election as a president
Speaker Berri a key ally of Hezbollah postponed the election to March 23, 2016.
Ali Hussein a Lebanese  analyst commented on Berri's optimism by saying :" Speaker Berri tries to pretend he is his own man but in reality he is not . If he is optimistic it is because Hezbollah tells him to be optimistic or may have heard something from the party that made him feel that way . The speaker is not an independent person, de says and does what Hezbollah chief Hassan Nasrallah  tells to say or do. If he is truly independent he would  have found a way to force the election of a president long time ago  , whether by making sure the deputies attend the meetings or changing the quorum rule. Berri is a role player he plays the role assigned to him by Hezbollah. "
This error message is only visible to WordPress admins
Error: No connected account.
Please go to the Instagram Feed settings page to connect an account.