Saudi Arabia turns the screw on Lebanon's economy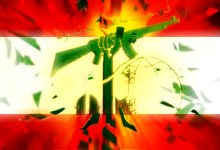 By: Erika Solomon and Simeon Kerr
Saudi Arabia is ratcheting up a campaign against Iran's regional Lebanese proxy Hizbollah by squeezing Lebanon's economy — a move that could further destabilise a country on the front line of the region's most volatile conflicts.
Lebanon has long been caught in the regional rivalry between Shia Muslim Iran and Sunni Muslim Saudi Arabia. The demographically diverse country is home to the Shia movement Hizbollah, which is fighting in neighbouring Syria's war on behalf of President Bashar al-Assad. Meanwhile, Saudi Arabia has long-backed Lebanon's Sunni leaders.
The rising pressure on Lebanon comes as Saudi Arabia suffers setbacks in its broader proxy war with Iran in Syria, where Gulf-backed rebels are losing ground, and in Yemen, where a Saudi military campaign has failed to expel Shia Houthi insurgents from the capital.
Western diplomats worry a weaker Lebanon would increase turbulence in the region.
"It could mean a rise in the humanitarian crisis for Europe, a rise in militant groups' operational theatre, and more chaos on the border with Israel," one diplomat in Beirut said. "And that would be a disaster."
In February Saudi Arabia suspended $3bn worth of aid to Lebanon's army, and last week, the Gulf Cooperation Council (GCC) designated Hizbollah a terrorist organisation.
Saudi Arabia and the UAE — the GCC's leading military powers — had previously designated branches of Hizbollah in the Arabian peninsula as terrorist groups, but refrained from taking sanctions against the Lebanese group.
Riyadh has now sanctioned specific companies and individuals for their links to Hizbollah, potentially deterring other businesses from linking themselves to anyone that might be perceived as tied to the group, which may hit Lebanon's Shia businessmen.
Western diplomats worry the Saudi-led moves are aimed at destabilising Lebanon, in the hope that economic hardship would raise Lebanese Shia frustrations with Hizbollah — and by extension, Iran.
Any chaos could unsettle a country still recovering from its own 15-year civil war and whose sectarian tensions mirror those fuelling neighbouring Syria's conflict. Meanwhile, jihadi forces like Isis are holed up in parts of Lebanon's mountainous frontier.
UAE officials say Gulf targeting of Iran's proxies could broaden in the coming months as countries consider listing Iraq's Shia militia forces fighting alongside the army as "terrorists".
The GCC blames Iran's intervention in the Arab world for fuelling sectarian resentment in the region and argues constraining it would stem recruitment to Isis and al-Qaeda.
Hizbollah leader Hassan Nasrallah has criticised Saudi regional interventionism and last week called his verbal attack on Riyadh "the greatest thing I have ever done in my life. And I feel that this is the true jihad."
Mr Nasrallah effectively put his war of words with Riyadh above Hizbollah's central cause of fighting Israel — a potent sign of how influential the cold war between Iran and Saudi Arabia has become. A decade ago, Hizbollah was feted by Sunnis and Shia alike for confronting Israel in the 2006 war.
Lebanese officials see the Gulf pressure as a response to Lebanon's failure to classify Hizbollah as a terrorist group, or condemn an attack on the Saudi embassy in Tehran after Riyadh executed Shia cleric Nimr al-Nimr.
There is growing concern in Lebanon that GCC states may begin to expel Lebanese workers in the Gulf, according to regional diplomats and officials from Beirut. Remittances account for about a fifth of Lebanon's GDP, and half of those come from the Gulf. Losing them would be a major blow to a country of 4m already struggling to absorb 2m Syrian refugees.
"Most of the remittances go into the banks, thus increasing deposits. Later the banks lend to the government. So it is a cycle," said economist Kamal Hamdan, managing director at the Consultation and Research Institute, adding that losing remittances would also hurt the government's ability to cover its fiscal deficit. Lebanon's debt-to-GDP ratio is over 140 per cent, making it one of the most indebted countries in the world.
An Abu Dhabi adviser said the UAE — along with other GCC states — is considering expelling thousands of alleged Hizbollah supporters, which critics say could become a purge of Lebanese Shia. In past years, the UAE has carried out several such deportations.
Most Lebanese politicians argue the Gulf action is pushing the country further towards Iran, implying that Tehran could increase financial assistance to Beirut.
However, it is unclear if Iran is willing to step up its economic support to Lebanon. Now unshackled from international sanctions, Tehran is working to revive its own economy and needs to maintain ties with its more important neighbour Iraq.
Analyst Theodore Karasik, of Gulf State Analytics, says the GCC is aware its recent actions hurts its local allies, but they may hope it pressures fractious Sunni leaders that have been unable to unify to create a more viable front to counter Hizbollah influence.
"It's a combination of push and pull," he said. "The GCC is calling on the Lebanese factions it supports to get their act together."
But the move carries long-term risks, critics say. Lebanese Sunnis may someday seek new regional patrons in the future. "The Saudis may be underestimating how sectarianism can be overtaken by national identity," the western diplomat said. "People will remember the Saudis were willing to destabilise them."
FINANCIAL TIMES