Mitt Romney trashes Donald Trump, says could be suicidal for the country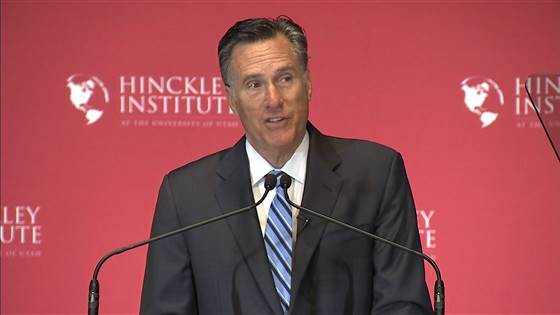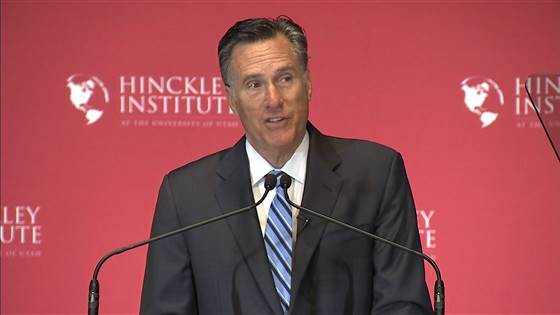 In an extraordinary public rebuke of Donald J. Trump's campaign, Mitt Romney and John McCain, the last two Republican presidential nominees, denounced Mr. Trump in forceful terms on Thursday and warned that his election could put the United States and even its democratic political system in peril.
Offering himself as a bulwark against Mr. Trump's march to the nomination, Mr. Romney laid out a precise and lengthy case against Mr. Trump, lacerating his business dealings, his erratic pronouncements on national security and demeaning treatment of women, minorities and the disabled.
Mr. Romney warned that Mr. Trump's nomination would be calamitous for the Republican Party and, quoting John Adams, even suggested it could be suicidal for the country.
Evoking the specter of totalitarianism, he said Mr. Trump was amplifying a "brand of anger that has led other nations into the abyss."
"His domestic policies would lead to recession," Mr. Romney said. "His foreign policies would make America and the world less safe. He has neither the temperament nor the judgment to be president."
Mr. McCain, once a rival of Mr. Romney's, effectively linked arms with him soon after his address, saying that he shared Mr. Romney's dismay about Mr. Trump's ascent. Referring to a public letter released on Thursday by dozens of conservative national security leaders, who vowed never to support Mr. Trump, Mr. McCain echoed their concerns about Mr. Trump's "uninformed and indeed dangerous statements on national security issues."
The onslaught against Mr. Trump appeared aimed at sowing new doubts among voters about a man who has taken firm command of the Republican presidential race, and stiffening the resolve of mainstream Republicans to reject Mr. Trump.
But the timing of the assault, after Mr. Trump's commanding electoral victories on Tuesday, may make it futile. And Mr. Romney's history with Mr. Trump, which he ignored in his jeremiad on Thursday, could undercut the power of his warning: Mr. Romney eagerly sought and publicized his endorsement by Mr. Trump in 2012, even as Mr. Trump heckled and harassed President Obama with accusations that he was not born in the United States.
In an addendum to his speech conveyed on Twitter, Mr. Romney said that he would not have accepted the endorsement had Mr. Trump at the time made many of the divisive remarks he has delivered recently.
Mr. Trump answered Mr. Romney's critique with a belittling rant at a midafternoon speech in Maine: He called Mr. Romney a "failed candidate" and mocked him for his politically damaging 2012 comments about the "47 percent" of Americans who do not pay taxes, and for fumbling his final debate with Mr. Obama. He described Mr. Romney as having debased himself to secure a Trump endorsement in that election.
"He was begging for my endorsement," Mr. Trump said. "I could have said, 'Mitt, drop to your knees.'"
Mr. Romney's associates have called that characterization inaccurate.
It is unheard of in the modern Republican Party for mainstream leaders to savage a presidential candidate who appears well on his way to locking up the nomination. The Super Tuesday primaries more typically mark the beginning of the party's rallying around a single candidate.
But Mr. Romney's speech, especially, cast Mr. Trump as an unacceptable candidate under any circumstances: "a phony" and "a fraud" who could not be trusted with the nation's highest office. Such language would be impossible to retract in a general election campaign and all but precludes a later endorsement.
Mr. Romney, who has not endorsed a candidate in the presidential race, insisted it was not too late to block Mr. Trump, and effectively called for a contested convention to select a nominee. He urged Republican primary voters to cast ballots for whichever candidate appeared to be the strongest Trump alternative in each state: Senator Marco Rubio in Florida, Gov. John Kasich in Ohio and Senator Ted Cruz wherever appropriate.
The appeal from Mr. Romney and other party leaders comes at a desperate moment for Mr. Trump's opponents, who must defeat him in several of the big states that vote in March to block him from seizing an insurmountable lead.
If Mr. Romney's remarks resonate anywhere, they may be most important in two states that vote on March 8: Michigan, where Mr. Romney was raised and his father was governor, and Idaho, where he is a popular figure with fellow Mormons.
Frances F. Townsend, a former homeland security adviser to George W. Bush, said she hoped that Thursday would be a turning point in the race, and encouraged others to speak out against Mr. Trump.
"There needed to be a group that would stand up and say, 'Yes, I am willing to be counted,'" Ms. Townsend said. "We cannot all be silent, or be Chris Christie and decide, 'I am going to put myself first and, for political and opportunistic reasons, I am going to endorse this stuff.'"
But neither Mr. Romney nor Mr. McCain addressed the party's failure to mount a Stop Trump campaign until this late stage in the race, a decision many Republicans now view as a grave error.
John F. Lehman, a former Navy secretary who advised Mr. McCain's 2008 campaign, said that it was appropriate to raise questions about Mr. Trump's fitness to serve as commander in chief – but that it might be too late to make a difference.
"It's too bad that the party has waited so long, and the other candidates waited so long, to point out these shortcomings, because they are severe," Mr. Lehman said. Explaining the delay, Mr. Lehman acknowledged, "people haven't come out against him because nobody thought he'd get this far."
Gov. Chris Christie, in New Jersey, defended Mr. Trump and his own decision to support him. He said he had no problem with Mr. Romney's condemnation of Mr. Trump, but that the Republican Party should not meddle in the primary election process.
"Democracy is in action," Mr. Christie said. "It is the people who vote who ultimately decide who the nominee is. That's how Mitt Romney became the nominee."
Historians could not recall another time in the last century when the Republican Party's past standard-bearers had so harshly attacked a would-be successor. The most recent antecedent, they said, might be the 1912 election, when Theodore Roosevelt led an exodus of progressive voters from the Republican Party, and ran as a third-party candidate against William Howard Taft.
Mr. Romney's across-the-board condemnation of Mr. Trump's character and his fitness for the presidency raised the prospect of a similar rupture in the fall, if Mr. Trump is the Republican nominee.
"There probably hasn't been this level of personal invective by one Republican nominee against another leading candidate ever," said David Greenberg, a historian at Rutgers University. "Perhaps not even in 1912 when T.R. went after Taft."
NY TIMES